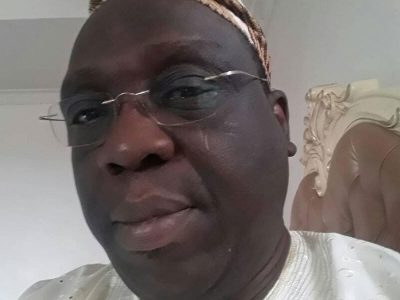 A chieftain of All Progressives Congress in Lagos State, Mr Fouad Oki, has alleged that some close allies of the party's national leader and former governor of the state, Bola Tinubu, are sabotaging the second term bid of the incumbent governor, Mr. Akinwunmi Ambode.
Oki made the allegation on a Lagos Talks 91.3 FM programme, Morning Digest.
The APC chieftain, who emerged factional state chairman at the recent congress of the party, named those in the thick of the anti-Ambode plot to include Osun State Governor Rauf Aregbesola and lawmaker representing Kosofe Constituency 1 in the Lagos State House of Assembly, Hon. Bayo Oshinowo, popularly called Pepper. The two men are fervent supporters of Tinubu.
Challenging Aregbesola and Oshinowo to publicly deny the plan, which he claimed they had shared with him, Oki stated, "I think they should be man enough to come out to say what the governor has done that they are not happy with. It's not by keeping the man in the dark and not telling him exactly what it is and then carrying hosanna in the day and crucifying him at night, they should be man enough to come out."
Oki accused the Osun State governor and the legislator of causing destructive divisions in the Lagos State chapter of APC with their struggle for control of party structures.
He, however, pronounced Tinubu blameless in the alleged scheme to frustrate Ambode's second term.
Oki said: "Anybody trying to bring Bola Tinubu into this matter is unfair. Really, if there are personalities in the issue, it would have been Governor Aregbesola and Hon. Bayo Oshinowo who on their own decided that everybody must be roped into line by joining by fire by force the mandate group. And because they have their issues with the current state governor, they have made up their mind on what the likely result of party primaries would be. If they have issues with Governor Ambode, they should not bring it or situate it within the party process."
Oki also said he had a cordial relationship with Ambode, stressing, "I don't have any reason to say this is what the man has done against me."
He criticised the state APC congress that produced Alhaji Tunde Balogun as chairman as lacking in internal democracy.  (Thisday)