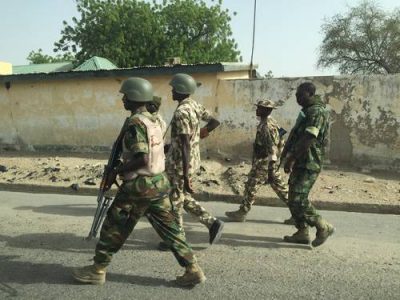 The Nigerian Army yesterday revealed that its Troops of 21 Brigade supported by members of the Civilian Joint Task Force (CJTF) deployed in Operation Lafiya Dole to conduct counter terrorism and counter insurgency operations in the North East have rescued 148 civilians held hostage by Boko Haram terrorists in Modu Kinetic, a remote village in Bama local government area of Borno State, some used as sex slaves by the terrorists.
A statement issued in by Col. Onyema Nwachukwu, deputy director, Public Relations, Theatre Command of Operation Lafiya Dole in Maiduguri, said the troops rescued the hostages during an extensive Clearance Operation on Sunday June 3, to rid the general area of Bama, Modu Kimeri and Gulumba Gana of fleeing elements of Boko Haram terrorists who had escaped from the ongoing troops' onslaught in the Lake Chad Islands and fringes of the northern borders of Borno State.
"The rescued hostages, comprising 15 men, 58 Women and 75 Children revealed during a joint profiling and interrogations by troops of Operation Lafiya Dole and other security agencies, that the Boko Haram terrorists had sexually violated the females and used them as sex slaves.
"Two pregnant teenage girls are among the rescued persons. The rescued persons further disclosed that the men were not spared, as they were regularly engaged in forced labour while in the captivity of the terrorists. They will be prompty handed over to officials of Bama Internally Displaced Persons (IDP) Camp for welfare and administration.
"The troops have also successfully cleared adjoining villages including China, Sabon Gari-1, Sabon Gari-2, Sabon Gari-3 and Sabon Gari-4 villages. Other areas cleared by troops along the axis of operation are Nguzoduwa, Falla, Bulangala, Botori and Bula Matawa villages.
"Additionally, troops recovered 22 Dane Guns, one tool box used for fabricating local fire arms, four Boko Haram flags, a motorcycle and one Bow and 20 Arrows."
(Leadership NG)