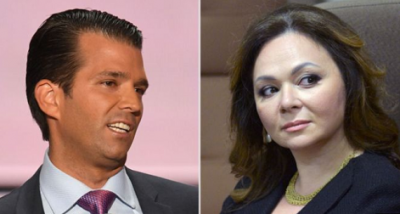 US President Donald Trump has admitted his son met a Russian lawyer in June 2016 "to get information on an opponent", but argues it was legal.
It is his most direct statement so far on the reason for Donald Trump Jr's meeting with Kremlin-linked lawyer Natalia Veselnitskaya in June 2016.
Special Counsel Robert Mueller is investigating US intelligence findings that Russians conspired to sway the election in Mr Trump's favour.
President Trump denies any collusion.
He has called the ongoing investigations in the US "the greatest political witch hunt in history".
Russia has repeatedly denied claims it interfered in the November 2016 presidential elections, where Mr Trump defeated Democratic rival Hillary Clinton.
On Sunday, US media including the Washington Post, CNN and AP reported that Mr Trump was worried Donald Trump Jr could be in legal trouble because of the 9 June 2016 meeting with Ms Veselnitskaya. They cited multiple unnamed sources.
Mr Trump tweeted: "Fake News reporting, a complete fabrication, that I am concerned about the meeting my wonderful son, Donald, had in Trump Tower.
"This was a meeting to get information on an opponent, totally legal and done all the time in politics – and it went nowhere.
"I did not know about it!"