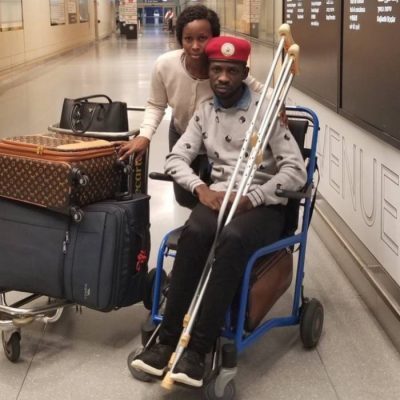 Uganda opposition member of parliament, Robert Kyagulanyi Ssentamu, better known as Bobi Wine has arrived in the United States of America for medical treatment.
The popular musician turned politician was tortured while in detention in Kampala. He was detained at the airport in Entebbe, when he made a bid to travel on Friday. But public outcry and protests by his supporters made the police to release him to embark on his journey.
Bobi Wine posted on Twitter that he had arrived safely in the US after suffering brutal torture by Special Forces soldiers.
"Safely arrived in the US where I'll be receiving specialised treatment following the brutal torture at the hands of SFC soldiers. We thank the world for standing with us. I will soon tell you what exactly happened to me since 13th August and what is next. #peoplepower Power," Bobi Wine posted on his Twitter account.
Kyagulanyi and several other opposition politicians were arrested and charged in court after the motorcade of President Yoweri Museveni's convoy was stoned on 13 August. He was initially charged in a court martial for possession of illegal weapons.
After he was discharged at the court, he was re-arrested to face a trial for treason at a chief magistrate's court. His lawyers fought for his bail.
President Museveni had initially dismissed allegations that Bobi Wine was beaten up in detention as fake news. (NAN)