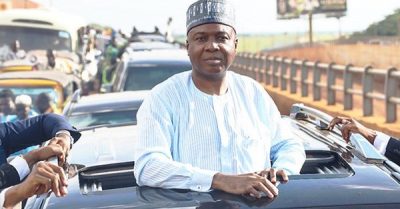 The people of Ajikobi Ward in Ilorin West Local Government Area of Kwara State said yesterday that they are  tired of the Saraki dynasty and have resolved to reject the family head ,Senate President Bukola Saraki,  or anyone  he puts forward for election in the area.
A leader of the community , Alhaji Omar Aiyelabegan, told reporters in Ilorin,the state capital,that  nobody would succumb to Saraki's dictates  again.
"We have our independent mind, even my children have a right to belong to where it will benefit them.We are tired of Bukola Saraki," Aiyelabegan  said.
Aiyelabegan, a chieftain of the All Progressives Congress (APC) in Kwara said the Senate President was never chosen by the people as their  leader.
He claimed that  the people chose to be silent at the self-imposed leadership of the Saraki family adding that the Senate President has done little or nothing for the development of the area.
His words:"the people of Kwara have never had it right from the time the Saraki family decided not only to be king makers but as king in addition.
"Since then up-to-date  we, at the grassroots, have become the prisoners of the family – like chickens or sheep ready for roasting or for pepper soup at any time election is approaching.
"It is only when election is approaching that they dangle carrots as empowerment for the long forgotten electorate, to woo them.
"Kwara people are never given the chance to make representations ?on matters that concern them in government, either at the executive or legislative levels
Aiyelabegan did not spare Governor  Abdulfatah Ahmed who he said has also failed the people of the state.
"These deceptions are enough! No road, poor educational system, poor health system, no water; agriculture is nil, no salaries for some categories of workers for months," the News Agency of Nigeria (NAN) quoted him as saying.
"Pensioners are denied of their entitlements. Nothing is working in Kwara." (The Nation)