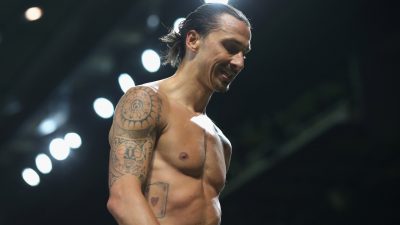 It would be fair to state that Zlatan Ibrahimovic had a bigger impact in a short space of time than any other player in Manchester United's history.

The fact the Swedish striker has only had one full season in the red shirt, top scoring and helping to bring three trophies to the club, means he is pretty unique in his achievements in a limited time at Old Trafford.

Others who performed well in short stints at the club spring to mind, including Carlos Tevez who may have only been on a two-year loan but still racked up 99 games. Veteran defender Laurent Blanc was another of Sir Alex Ferguson's short-term acquisitions but he managed 75 outings.

Arguably, the closest anybody can come to rivalling the Scandinavian legend is Henrikh Mkhitaryan. The Armenian won the same three pieces of silverware as Zlatan last term and also scored in the Europa League final against Ajax. Mkhitaryan appeared 63 times for the Reds before moving to Arsenal in January, scoring 13 goals.

Considering Zlatan made 53 appearances for the club, and 10 off those were off the bench, when focusing on ex-Reds with so few matches, it becomes clear he stands alone in his influence and output. The centre-forward's 30 strikes in his first season meant his goal average among this group of players may have been bettered by three individuals, even if each man failed to win any medals at the club.

Charles Sagar was a goal machine between 1905 and 1907, firing a hat-trick on his debut against Bristol City and ending his first campaign with 20 strikes in 23 matches as the club gained promotion from the Second Division. A knee injury halted his impact and he only appeared 10 times in 1906/07 but still contributed four goals. Ronald Burke was another prolific marksman, in Sir Matt Busby's post-War team, slamming 23 goals in 35 games – including one in the Charity Shield defeat to Arsenal in 1948 and the winner in his final appearance against Newcastle in 1949.

Jack Allan, who signed for the club from Bishop Auckland in 1904/05, scored twice on his debut and hit 16 goals in 27 times in his first campaign. The following year, he averaged a goal a game from six outings but did not find the net in in his three matches in 1906/07. So he finished up with 22 goals in 36 matches.

Other strikers recorded impressive figures – William Brooks, Jack Doughty, Alfred Edge and Charles Rothwell all averaged a goal a game from only three outings but the game was very different in the bygone era when strikers did tend to dominate the scoring charts.

Only very few more recent individuals can lay claim to at least securing a place in the club's golden history. Who will ever forget Federico Macheda's contribution to the 2008/09 title-winning campaign or Mark Robins's impact in his second season when Sir Alex lifted his first trophy at United in 1990? Both stayed at Old Trafford for a number of seasons, though. Michael Owen's goalscoring appearance in the 2010 League Cup final win over Aston Villa was one of only 31 outings for the Reds and his last-gasp derby winner was a moment to savour.

Angel Di Maria and Radamel Falcao spent only one season with the Reds during Louis van Gaal's reign but neither had the impact Zlatan made. One man whose name always gets mentioned regarding brief but enjoyable spells at Old Trafford is a former international colleague of Ibrahimovic's – Henrik Larsson. However, it is worth remembering the classy forward made a mere 13 appearances during his loan spell in 2007, scoring three times.

Perhaps many people will look back in years to come and feel Robin van Persie was another striker who came to the club and achieved a great deal in a relatively short career at Old Trafford. He won the Sir Matt Busby Player of the Year award and was leading scorer when helping fire the Reds to a 20th league title but he did stay for another two seasons after that and his 105 games in total makes him a different case altogether.

So, after looking at the records, it becomes quite apparent Zlatan Ibrahimovic could stand alone for his short-term contribution to Manchester United. History will show his one full season in red was a clear success and one that will be remembered fondly. One wonders what he might have achieved but for the serious knee injury sustained against Anderlecht, which so severely restricted his output in 2017/18.
(manutd.com)