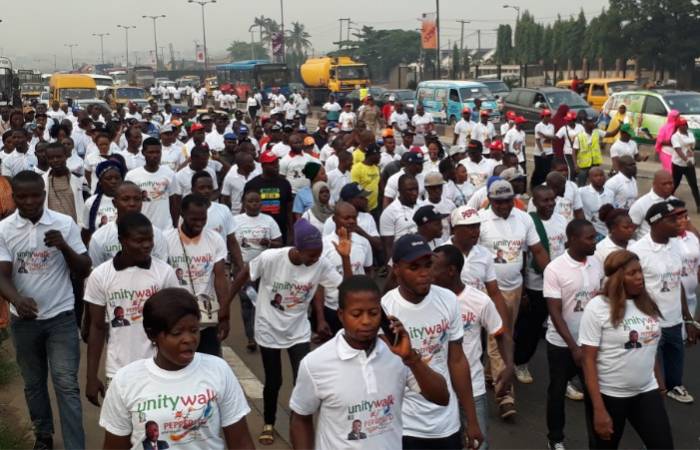 The senatorial candidate of the All Progressives Congress (APC) in Lagos East, Bayo Osinowo, has said that the ability to deliver good governance is a key criteria for getting the APC's ticket.
He said this at a rally organised for him by youths in Lagos State on Sunday.
The rally had hundreds of supporters walk from Maryland to Gani Fawehimi Park through Ketu.
Osinowo noted that the APC's National Leader, Asiwaju Bola Tinubu, always reminds politicians under his tutelage of the importance of prioritising the needs of the masses.
According to him, Tinubu only endorses those tested and capable of having the ability to satisfy the yearnings of his/her constituents.
Osinowo, popularly known as Pepperito, said: "We put our trust in God. It is APC's candidates hobby and character to do good, to take care of our people, to provide good roads and schools.
"For the past 20 years, we have been managing people. It is their (opposition parties) habit to divide and embezzle. Our character is to play politics without single bitterness. This walk shows that we are one. Voting for APC is voting for your future.
"We emulate our leaders in building the nation and maintaining high level of integrity, good governance and accountability. It is only in Lagos that we don't care about your tribe. We are after development, no matter where you come from whether Yoruba, Hausa or Igbo.
"Tinubu is still relevant because he invested in youths and the yardsticks for getting his support are clear. The fruits of his leadership is everywhere doing well. From Fashola to Ambode and very soon, Sanwo-Olu, Lagos will keep progressing."
He urged voters to shun monies that may be offered by the opposition parties, saying that APC has no money to spend for buying votes.
He said: "We are here to protect legacies of democrats who have held leadership positions in the past.
"We are not financially buoyant than PDP, no one can measure their wealth, we only have integrity and good leadership to offer.
"You can see how much stress we are going through campaigning, but on election day you will see them distributing money. We need you to vote en mass for us.
"I have paid my price. I was jailed for democracy, almost killed. I have lost so many things fighting for our democracy and I promise to appreciate democracy with good leadership."
Convener of the Unity Rally, Aliu Adekunle, also known as Africa, urged the candidate not to betray the trust of masses in him.
He explained that the rally was also a form of sensitisation for youths to actively participate on the election.
He said: "This is an opportunity for the youths to try another young leader.
We are in support of progressive leaders and one of them is Osinowo. This is to show that we identify with good governance and leaders."
Also, Saheed Balogun, a Lagos House of Assembly aspirant, advised Lagosians to come out and vote en masse.
"I urge us to spend our time to mobilise our fellow youths to vote en masse for our senator and other candidates of APC," he added. (NAN)