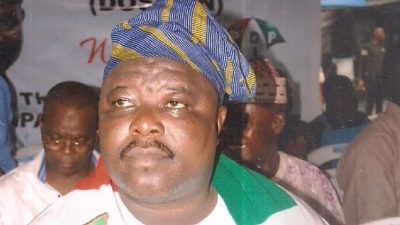 Silifat Aborishade, the wife of a recently murdered Peoples Democratic Party (PDP)'s leader in Apapa, Lagos state, has appealed the police to drop the criminal charges filed against some of her husband's alleged killers.
Adeniyi Aborishade, the PDP chairman in Apapa local council, died in a hospital after sustaining gunshot injuries during a party meeting on Sunday, July 22, Premium Times reports.
The police said a heated face off ensued during a PDP meeting in Eti-Osa local council between a faction loyal to Moshood Salvador, the state's party chairman, and that of the local government chairman, Kehinde Fasasi.  Salvador reported to newsmen that he had left the venue of the meeting before the shooting began.
Recently, the police arraigned Salvador and Fasasi alongside nine other party leaders before a Yaba magistrate court on two counts of conspiracy and unlawful killing.
The magistrate ruled that they be remanded in prison till Monday, August 27, the court await the advice of the Lagos state director of public prosecutions.
In her letter addressed to the deputy commissioner of police in Lagos, Aborishade said five of the accused persons were, in fact, the complainants in the suit. The mentioned suspects included Fasasi; Amos Fawole, chapter chairman, Surulere local council; Rotimi Kujore, party chairman, chapter chairman, Lagos Island local council; Fatai Adele, chapter chairman, Mushin local council; and Ismaila Abiola, chapter chairman, Amuwo Odofin local council.
Aborishade said: "I wish to further state with emphasis that the five accused persons are not in anyway responsible for the death of my husband, they are the complainants that has now for reasons best known to the prosecution, turned into the accused/victims in this unfortunate situation."
"The news of the above named persons' detention at the State CIID, Panti, Yaba, and subsequent conviction on charges of conspiracy/ murder came as an utter shock and surprise to me, as same appears hasty and laced with malice."
She said that the five suspects were those who reported her husband's death at the Ilasan police station, and were referred to the state criminal investigation department at Panti where they were detained and later charged to court.
Aborishade also said: "I wish to state with emphasis that the 2nd-6th defendants are on the same camp with my husband till his demise as they are close friends and fellow chairmen of their respective local governments." She went on to reveal that her husband's injuries had been attended to at the hospital because one of the suspects, Fawole, who is a medical doctor, had provided her husband's medical history and also paid for his medical bills.
She remarked: "The 2nd-6th defendants are my late husband's helpers who did everything within their reach to save my husband's life and as a result do not deserve to be treated inhumanly like criminals which they clearly are not."
Chike Oti, the Lagos police spokesperson, refused to comment on the development because the matter is "no longer in the police station." Oti said: "The matter is subjudice as it were and no comment can be made on the matter that is receiving the attention of the court."