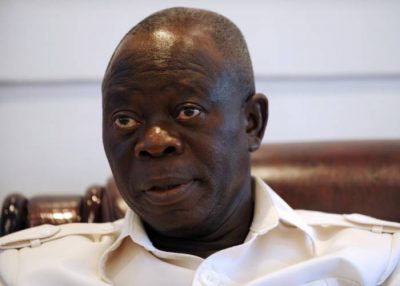 A former Minister of State for Education, Senator Iyabo Anisulowo, has accused Vice-President Yemi Osinbajo and the National Chairman of the All Progressives Congress, Adams Oshiomhole, of masterminding the crisis rocking the party's governorship primary in Ogun State.
The National Working Committee of the party and the Ogun State chapter on Tuesday announced different names as candidate of the APC for the 2019 elections.
While the NWC panel sent to conduct the primaries in Ogun State announced Dapo Abiodun, the State chapter of the party said the primaries was won by Adekunle Akinlade.
Speaking with newsmen in her country home in Ilaro, Yewa South Local Government Area of Ogun State, Anisulowo said it was a sad development that no one from her zone had governed the state since it was created 42 years ago.
She said she and other Ogun West elders began the struggle for the "emancipation" of the zone over 30 years ago.
She described 2019 as the best opportunity for the zone to produce a governor of the state.
Anisulowo said the Yewa Elders Council unanimously endorsed Akinlade after thorough screening.
She said: "I am really hurt.
"I'm disturbed and feel like crying with this development.
"After shifting the direct governorship primary two times, members of the APC in the state trooped out, on Tuesday, to participate in the exercise in the presence of officials of the Independent National Electoral Commission.
"But I was shocked to discover that some APC members, backed by the Vice-President and Oshiomhole, conducted another direct primary.
"He (Osinbajo) did his politics in Lagos.
"He came to be Vice-President from Lagos but we cannot deny that he is an indigene of Ogun State.
"But for us, I have been in politics for 35 years.
"We don't know him in the politics of Ogun State.
"The only thing we knew about him is that he was a Commissioner in Lagos State and his brother was a Commissioner here in Ogun State and many times we met, they were very respectful.
"So, how do we feel that he would be the one that is trying to rock the boat here?
"But Oshiomhole, everybody knows him.
"And if he is faulting the system here, what about the system that made him the national chairman of our party?
"How clean was the process?
"And now he wants to turn everything upside down for us here.
"So, we are begging all law-abiding people, all the citizens of Nigeria to please caution our national chairman and other people that are fuelling trouble to put Ogun State on fire."