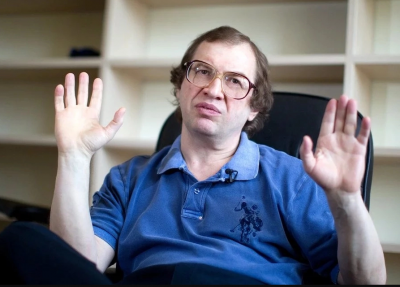 Following reports of the death of Sergey Mavrodi on Monday, Nigerians have gone on Twitter to mock his passing, saying he cannot just scam Nigerians and live.
The MMM founder reportedly died of heart attack after he was admitted to a Russian hospital.
The scheme founded by the 62-year-old was introduced into Nigeria in 2016. It crashed in December of the same year with many Nigerians losing their savings in the process.
People had also lost money to the scheme in Russia – where it started, Ghana and Egypt.
Majority of the people who reacted to the announcement of his death are Nigerians as well as people from other parts of the world whose encounter with the Ponzi scheme had been mostly unpalatable.
Most suggested that it was Karma that caught up with Mavrodi.
Read tweets below:
Someone said Sergey Mavrodi died because he was afraid of Nigerians coming to Russia for world cup in June. Man just had to die of heart attack.😂

He wasn't a great man but he allowed us know which Nigerian bank is fast and reliable.

I can't forget the MMM drama. 😂😫

— Iyá Lájè Of Lagos (@newscantell) March 26, 2018
MMM founer Sergey Mavrodi is dead. Died of heart attack. U cant eat Nigerians money just like that, ask Abacha 😅 pic.twitter.com/bgOuTx3fOy

— D U B E M (@no_rookie) March 26, 2018
Nigerians who died because of MMM waiting for Sergey Mavrodi at the gates of hell like 👇 pic.twitter.com/AC8ML5UPUz

— O$@$ 🔥 🔥 🔥 (@Theofficialosas) March 26, 2018
MMM, Sergey Mavrodi founder dies of attack in Moscow…
So Amadioha Can Kill Someone In Moscow?

— Buhari's sister🇳🇬 (@DaminaboEric) March 26, 2018
Sergey Mavrodi, founder of MMM has been scamming people all over the world without repercussions… just small money he scammed in Nigeria last year…. Dude is dead now. pic.twitter.com/n38oVspr6W

— PostMaster (@O_ssai) March 26, 2018
Sergey Mavrodi is dead!

The Man died with my MMM money! May his soul not rest in peace. 😭😭😭😭😭

— 💏Uncle💏Ezrel💏 (@ezrelaja) March 26, 2018
Sergey Mavrodi (Founder Of MMM) is dead, He died of Heart Attack In Moscow, Russia. Tag all your MMM Friend to burst their brain. 😂 pic.twitter.com/gTLSveGd8B

— Biyi The Plug 🔌 | #BBNaija (@Baddman20) March 26, 2018
RIP Sergey Mavrodi.
Lesson: Hell also hath no fury than a scorned Nigerian who takes your matter to God in tears with prayers pic.twitter.com/JL6xI0A6UK

— Emmanuel Maduneme (@Emerald992) March 26, 2018
Jamb 2019 Question

What did Sergey Mavrodi die of?
a) Spiritual attack
b) Counter attack
c) Heart attack
d) Arm robbers attack
e) All of the above

— 9jiria vs kuruption (@Chiefobserver1) March 26, 2018
Nigerians who died because of MMM waiting for Sergey Mavrodi at the gates of hell like 👇 pic.twitter.com/pnjaP0qvh8

— IG:realemmanuelnzube (@emmanuel_nzube) March 26, 2018
Sergey Mavrodi is dead😱. Let me put a call to that angel in charge of the gates,cos what that man did ehh😭😭

— Chári (@amarachee_) March 26, 2018
Sergey Mavrodi will be begging Devil for a separate hell fire because Nigerians in hell will still kill him the 2nd time! 😁😀😂

— el zee (@ghost144301) March 26, 2018
Sergey Mavrodi, MMM Founder dies of heart attack. Well done my 9ja brodas, your money can't go like that pic.twitter.com/1ec3MMcbDb

— Pepsi Cola Addict (@ElijahSorinola) March 26, 2018
You can't even do small play with Nigerians and their money

They yaff kii Sergey Mavrodi..

Awon eleyi 😂😂 pic.twitter.com/DWwJPSj90b

— HIT MAKER ™ (@T_boier) March 26, 2018
For Sergey Mavrodi to stay this long before His Death is proof that Curses dont work anymore… RIP MMM

— Akpos (@officialsimcard) March 26, 2018
Is like Sergey Mavrodi did not hear about Abacha

— Eazi (@Olayemi_MM) March 26, 2018
Immediately I heard of MMM's Sergey Mavrodi's death, I knew it was another season of hilarious tweets by unforgiving #Nigerians. I don't know how comedians still make it in a country where almost everyone is one.

— Temi Bamgbose (@pomare3) March 26, 2018
If you didnt take loan or your tuition fee to invest in MMM, you are not allowed to swear for Sergey Mavrodi.

— Captain Cold💧 the Retired Sinner (@R_Thobykov) March 26, 2018
The founder and CEO of MMM, Sergey Mavrodi, had reportedly died of heart attack in a hospital in Russia.

Ijebu people shey naxo una bad reach nii

— Bolaji olawale (@wascolee) March 26, 2018
"MMM founder, Sergey Mavrodi is dead."

The collective prayers of Nigerians might not work because it lacks sufficient faith but their curses are well intended, spiced with enough anguish and vitriol that usually can't miss.

— el zee (@ghost144301) March 26, 2018
LOL! Sergey Mavrodi death is a good example how not to mess with Nigerians, they finally send sango to Russia.😂😂😂😂

— Iyke🇳🇬 (@omakaiyke) March 26, 2018
A final RIP to all the fund Sergey Mavrodi stole from Nigerians. The devil is probably flogging the shit out of him at the moment so😕😠😠

— jennifer (@jennigreatest) March 26, 2018
Retweeted Darny Arts 🇳🇬 (@ArtsDanyjokes):

Sergey Mavrodi will be scared of Nigeria in his next life. You can't eat our money and go free except u join PDP or APC

— Babagana M Mustapha (@elbundur) March 26, 2018
This man be like;
"I have finally found closure… No hope of getting my money back as Founder of MMM Sergey Mavrodi dies.. Do not rest in peace Mavrodi" pic.twitter.com/v9XtbhGW4Y

— APRIL 8 and 22 🌋 (@EstyMara) March 26, 2018
SERGEY Mavrodi knows that world cup is fast approaching and Nigerians will search for him everywhere in Russia, he think he can run-away🏃by dying.#Bbnaija

— YOUNGMOGUL🇳🇬 (@Jayvybz_mst) March 26, 2018
Sergey Mavrodi will be begging Devil for a separate hell fire because Nigerians in hell will still kill him the 2nd time! 😁😀😂

— ImproveSelfEachDay (@KardinalSmart) March 26, 2018