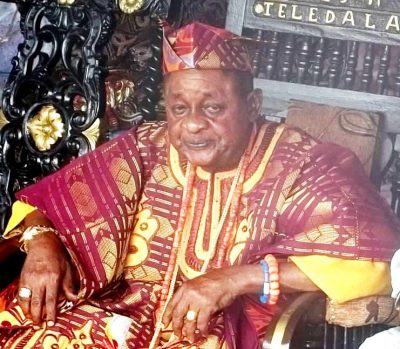 The Alaafin of Oyo, Oba Lamidi Olayiwola Adeyemi, on Monday said the recognition of June 12 by President Muhammadu Buhari depicts justice for the death of Aare Ona Kakanfo, MKO Abiola.
Oba Adeyemi in an interview with Tribune commended Buhari's move, describing it as a national affair.
According to him, declaration of June 12 as Democracy Day is the law of Karma catching up with Abiola's oppressors, adding that 'No one kills an Aare Ona Kakanfo and gets away with it.'
"I must commend President Muhammadu Buhari for telling the world that there is no way the truth can be obliterated. Regardless of any secondary motive behind it, if there is any at all, the President has accepted the truth, and that is the most important thing on the matter.It was a memorable event being a part of it. It was not a Yoruba affair.
"June 12 is a national issue. And it reflects in the public reactions to the President's decision. Watching Abiola's children addressing the audience brought back fond memories of their father who was a first class graduate.
"In fact, it is like history has repeated itself. You cannot kill an Aare Ona Kakanfo and get away with the act. The person must meet their nemesis somehow. Posterity is real. There is truly the law of karma. The June 12 elections rekindled hope in the corporate existence of Nigeria as it broke religious and ethnic barriers that always threaten the unity of the country. Nigerians ignored the Muslim-Muslim ticket and voted because they believed in the bearer of the ticket.
"In the area of politics, he campaigned all over the country, day and night, and brought messages of hope to Nigerians and Nigerians demonstrated the love with their votes. There was no ballot box snatching. There was no violence. Then the same votes were thrown away. Something must surely happen, and we are happy that we are alive to witness the upturn of the injustice. Many lost their lives during the struggle.
"The lesson therein is that we should be cautious of our actions at all time because history is recording every bit that we undertake. When the time comes, people will come out to say what we have done right and what have done wrong. And on this issue, who did right and did wrong is known to everybody.
"We must give the media a lot of kudos for standing by the truth from the beginning of the crisis till date. The media also helped President Buhari to amplify what he has done. And I am very sure the President himself appreciates this role."