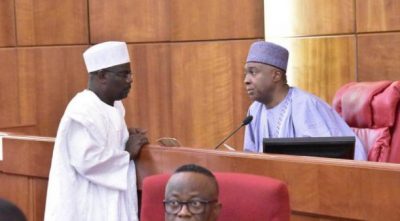 Ali Ndume, senator representing Borno south, has asked Senate President Bukola Saraki to reconvene plenary.
The senator frowned at the closure of the senate, saying there are "critical matters of urgent national importance" to be discussed by the lawmakers.
Ndume said this when he featured on Politics Today, a Channels Television show, on Wednesday.
"The closure of the national assembly that day was unbelievable. I was shocked by the way he acted," he said.
"The senate is not Saraki, Saraki is just a member of the senate and the presiding officer that anybody can be. So, for him to have just shut down the national assembly because of personal issues is very unfortunate and uncalled for especially when you have very important matters before the senate.
"We have five different critical items. We have the budget of the FCT before the senate which has not been approved.
"We have the virement and supplementary budget for INEC which is necessary in order to conduct the 2019 elections and then we have the appointment and the confirmation of ICPC members, that of FERMA is lying there, that of judicial commission is there and in fact, the budget of 64 government agencies is before the senate. Approval for the funding, external borrowing to fund the 2018 budget which has already been approved is before the senate."
APC CRISIS 'NOT WELL MANAGED'
Ndume said the crisis rocking the ruling All Progressives Congress (APC) was not managed well when it started to brew.
Senate President Bukola Saraki, three governors and several lawmakers from both chambers of the national assembly have left the APC for the Peoples Democratic Party (PDP).
Ndume said although the defections won't affect President Muhamadu Buhari's reelection chances in 2019, the party ought to have worked harder to keep its members.
"I want to equally say that that's not to say the people who left have been treated fairly because I know some of my colleagues have issues that would have been handled better," he said.
"Even Saraki's case could have been handled better ab initio, because I was part of the like-minded team to the emergence. I think the initial problem wasn't managed well by the party."
Ndume said defection is not a big issue but the party should be concerned when it loses people.
"If you look at the analysis of those that left, as the senate president said, he didn't leave, he said he was pushed out, and Bolaji who recently announced his defection, too, didn't say he left but was pushed out and his job is being compromised," the senator said.
Wishing Saraki and other defectors well, Ndume said the PDP which they are returning to is a dying party.
"Everybody knows that PDP is a dying party. In fact, the party is a bad brand and that's why I heard they are going into rebranding, that they want to even change the name after apologising to Nigerians," he said. (The Cable)