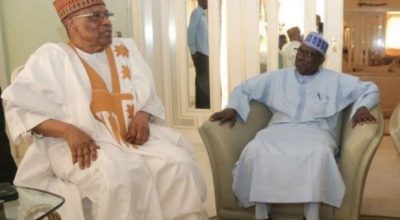 Ibrahim Babangida, former military head of state, has given Ahmed Makarfi his blessings to contest the 2019 presidential election.
Makarfi, a former caretaker chairman of the Peoples Democratic Party (PDP), is hoping to clinch his party's presidential ticket.
According to Babangida, Nigeria needs a new narrative and noted that Makarfi's plans for the country have restored his hope in the country.
The former head of state made the comments on Saturday when Makarfi paid him a visit at his hilltop mansion in Niger state.
"I was almost losing hope in the country, but having heard from the distinguished senator, I have become more enlightened and emboldened to say we have hope in Nigeria," Daily Trust quoted Babangida as saying.
"Without fear or favour, you have made my day.
"We need a new narrative in this country. We can't go on like we used to. We need an articulated vision of a new Nigeria. I am not surprised that you give such narrative of the country. You did well in the legislature and you handled well one of the most civilised and sophisticated states in Nigeria.
"You have my blessings and I will look forward to hearing from you on some of these articulations I heard from you today. Honestly I feel so proud."
Makarfi, a former governor of Kaduna, has said he will not defect from the PDP if he fails to win the party's presidential ticket, insisting that he would rather quit politics. (The Cable)