12.5 kg Cooking gas set to hit N18,000 by December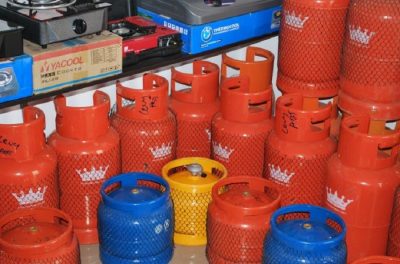 Gas retailers have warned that the price of 12.5kg Liquefied Petroleum Gas (LPG) otherwise known as cooking gas may hit N18,000 by December if the Federal Government does not restrict the activities of the terminal owners.
According to reports, this was made known by the President of the Nigerian Association of Liquefied Petroleum Gas Marketers (NALPGM), Olatunbosun Oladapo, who said that the price of cooking gas has skyrocketed at terminals.
Oladapo noted that there has been a sudden increment from between N9-N10 million per 20 metric tons to N14 million per 20 metric tons.
Prices could go higher without FG's intervention
He said that if the federal government doesn't intervene, the price of gas could potentially reach N18 million per metric ton by December.
He said, "There is a ridiculous hike in gas prices going on right now, and I am afraid that if the Federal Government does not step in to checkmate the activities of these terminal owners, the price could reach as high as N18m per metric tons by December. This means that a 12.5kg could go as high as N18,000."
According to him, terminal owners were "hiding under the guise of high foreign exchange to increase the price to further increase the suffering of the masses."
He added, "Now, the ordinary man would not be able to buy gas. How many minimum wage earners can afford gas now? Everyone is turning to firewood and charcoal. The surprising thing was that they visited President Tinubu last week, and promised to work together with his administration to make life better. Now they have come back and started doing something else. Where are all the palliatives and buses they promised to donate? We have not seen anything."
What you should know
The NALPGM boss had in August hinted that Nigerians will pay higher costs for cooking gas from mid-August 2023.
He attributed the reasons for the expected increase to include rising international prices, high tax rates, high prices of vessels, forex scarcity, and naira devaluation.
The prices of cooking gas had in recent times shot up, with 12.5kg cylinder of cooking gas going as high as high as N10,000. (Nairametrics)