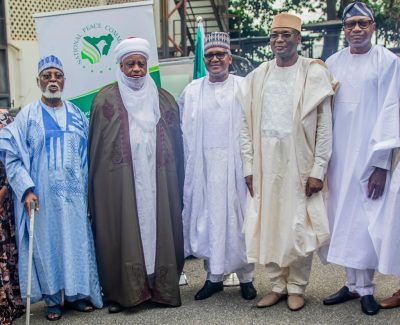 In preparation for the 2023 elections, five notable individuals have been announced as new members of the national peace committee (NPC).
Chaired by Abdulsalami Abubakar, former head of state, the committee was founded in 2014 "in response to emerging threats occasioned by the 2015 general election".
Since its inception, the NPC monitors compliance with peace pact signed by candidates of political parties as part of efforts to support free, fair, and credible elections.
The new members announced on Thursday are Femi Otedola, billionaire businessman; John Momoh, founder of Channels Television; Idayat Hassan, director of the Centre for Democracy and Development (CDD); Yayale Ahmed, former defence minister; and Martin Agwai, former chief of defence staff.
Speaking at a meeting of the NPC on Thursday, Mahmood Yakubu, chairman of the Independent National Electoral Commission (INEC), urged the committee to engage with stakeholders in the political space early enough, in order to minimise incidents of electoral violence.
He praised the committee for its efforts in contributing to peaceful elections, saying "nations are lucky when they have moral voices".
"That is why I think it is a big plus for us as a nation to have a national peace committee and the calibre of people involved in the national peace committee," he said.
"One of the things that the national peace committee can help us do in terms of mitigating security challenges is early engagement with some of the actors.
"Not just signing the peace accord on the eve of elections, but imagine that some of those who perpetrate violence on election day are not necessarily candidates in the election, but are people engaged by beneficiaries of the election.
"So, if we can engage with the actors early enough, I hope that we will be able to turn a new leaf in that respect." (The Cable)