2024: Kanye West Asks Trump To Be His Running Mate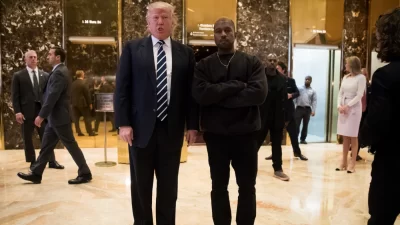 American rapper, Kanye West, has asked the former President of the United States, Donald Trump, to be his running mate in the 2024 US presidential election.
West, also known as Ye, had recently announced his presidential ambition following an unsuccessful bid in 2020.
On his Twitter page on Wednesday, the 45-year-old rapper revealed that he visited Trump at the latter's Florida private club, Mar-a-Lago.
West stated that he kept Trump waiting, as he went further to hint at the subject of their discussion.
"First time at Mar-a-Lago," he wrote. "Rain and traffic. Can't believe I kept President Trump waiting. And I had on jeans."
From there, West set up a poll regarding his apparent 2024 plans, which have again become a point of discussion in recent days.
"What you guys think [Trump's] response was when I asked him to be my running mate in 2024?" He asked.
West and Trump have been friendly in the past, including in a widely criticized White House visit in 2018.
Recently, West has come under intense criticism over what many people described as anti-Semitic comments from the artiste, leading to some global brands cutting ties with him.
Adidas, Balenciaga, MRC, and others are among those who have cut ties with West in recent months.
"Ye's recent comments and actions have been unacceptable, hateful and dangerous, and they violate the company's values of diversity and inclusion, mutual respect and fairness," read a statement from Adidas in October.