3rd Mainland Bridge: FG, Lagos assess integrity, allay fears of motorists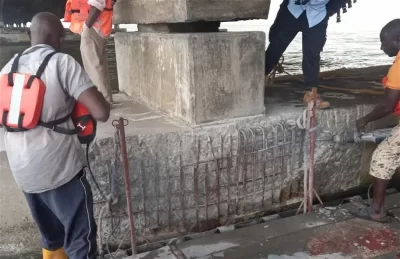 The Federal Government, in collaboration with Lagos State Government, have carried out a survey
to ascertain the status of the alleged vandalized Third Mainland Bridge's pile caps.
However, after the inspection both the Federal and State Governments, allayed fears of motorists and residents over the integrity of the bridge, saying, "It's safe and everyone can ply the bridge without any fear."
The clarification has become necessary following a recent viral report on social media, raising alarm over a vandalized part of the bridge.
A statement released by the Federal Ministry of Works, through the Federal Controller of Works in Lagos, Engr. Olukorede Kesha maintained that there was no vandalization of any part of the bridge's sub-structure.
Kesha explained, "The alleged vandalized pile caps were chiseled by MS Borini Prono(the contractor handling the bridge repairs) for repairs just before the emergency repairs of Third Mainland Bridge's contract was terminated on the account of non-performance/slow pace of work by the contractor.
"The pile cap repairs entail the removal/chiseling of Non-firm concrete parts of the pile caps, weak/rusted reinforcements are removed and replaced, antirust applied, and surface dressed with special mortar.
"Some pile caps have been prepared/chiseled and weak reinforcement removed for replacement just before the contract was terminated.
"There is no vandalization of any part of the bridge's sub-structure, the photograph circulating in the media refers to the prepared/chiseled section of the ongoing rehabilitation works on the bridge.
"Hence, the bridge is SAFE for public use."