Abdulrasheed Bawa: The Cat watching over fried Meat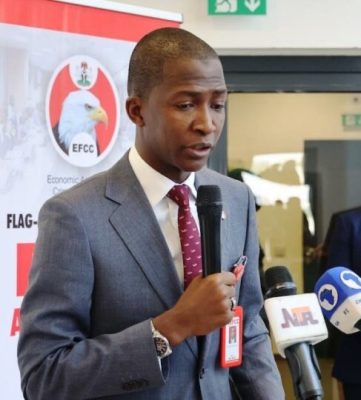 The media have been busy in the last three days over the the actions of Governor Bello Muhammed Matawalle of Zamfara State which is the hallmark of bravery and statesmanship.
I have never hidden my admiration and relationship with him. I remember my short visit to Zamfara almost a year ago, I saw a man filled with compassion and selflessness in his service to his people. This is not about his sterling leadership qualities, but about a cause he is pursuing. This is putting Abdulrasheed Bawa who is the chair of Economic Financial Crimes Commission on the spot by demanding for probity and accountability from him.
It's no gainsaying that Bawa's journey to this lofty height is allegedly fraught and built on illegality. His appointment was an affront of the necessary provision of the EFCC Act, so we're his actions before he got on the seat and while on it.
There was also an allegation of the sale of how Bawa was arrested and questioned over the sale of about 244 trucks that were seized by the Port Harcourt zonal office of the EFCC, where he worked then as zonal head.
The report claimed he was arrested and detained by the anti-graft agency in 2019 for selling at least 244 trucks worth between N20-30 million each to his proxies at N100,000 per unit, depriving the country of about N4.8 billion in potential loot recovery.
It was disclosed that the forfeiture proceedings of most of the trucks were yet to be concluded when Bawa allegedly disposed them.
This prompted the former EFCC Secretary, Ola Olukoyede to confront the EFCC boss in 2019, as he was said to have received complaints that Bawa was tampering with assets undergoing forfeiture proceedings.
When asked what happened to the trucks, Bawa reportedly said he was acting on the instructions of Magu but failed to put it in his statement.
This is why someone like me will not trivialise the strong allegations by Mr. Bello Matawalle as political mudslinging as Bawa has demonstrated the antecedent of tampering with assets and enthroning his "personal plea bargaining" at the EFCC.
In Yorubaland where I come from, there is a saying that "when you get a cat to watch over fried meat, what do you expect?"
This is my opinion of Abdulrasheed Bawa and it is emboldened by his response during an interview with BBC Hausa service.
During the interview, he (Bawa) was asked by the reporter that Governor Matawalle said he is not also a person of integrity and his response had him away. He responded rhetorically if "there is any human being who is perfect?"
Relying on the transcript of the interview, here is the exchange;
"MAI RAHOTO: Matawale ya ce kai ma ba mutum ne mai gaskiya ba.
SHUGABAN EFCC: Akwai wani dan Adam da ya cika daidai? Na ji yana cewa na nemi kudi kuma duk don haka. Idan kuma yana da wata matsala da ni, sai ya rubuta wa ICPC, 'yan sanda, da sauransu, sannan ya fito da hujjojin da ake tuhumarsa da su.
Za mu ci gaba da yin aikinmu gwargwadon iyawarmu."
With this response, it is no rocket science that the EFCC chair laconically admitted to being a man lacking in integrity, thereby giving credence to the allegations of Matawalle, the Matawalle I know is not a man who engages in frivolous and reckless talks.
I think this just entrenched it further in the minds of Nigerians that Robin Hood who robs from the rich and gave the poor, we have Alli Baba and his gang of thieves looting the many recovered loots.
I think the revelations and the many allegations by Matawalle just made realisation hits Nigerians so hard that they had a light-handed man at the helms of affairs of EFCC. It just dawned on Nigerians they kept fried meat with a cat.
•Written By Deyemi Saka