Abia: Ikonne's death terminates deputy gov's candidacy —Lawyer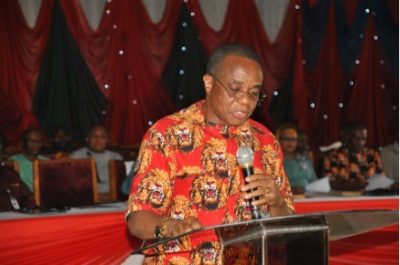 Human rights lawyer and principal of Festus Ogun Legal, Festus Ogun, has said the death of the governorship candidate of the Peoples Democratic Party in Abia State, Prof. Eleazar Uche Ikonne, has automatically terminated the candidacy of his running mate as the deputy governorship candidate of the PDP in the state.
Ogun, who sent his condolences to the family of the late Ikonne on Wednesday evening, explained the legal implications of the death of the PDP governorship hopeful in the state.
He stated that Ikonne's death implied that the PDP, upon notifying INEC and within 14 days, should conduct a fresh governorship primary in Abia State in accordance with its Constitution and the Electoral Act wherein a new governorship candidate will emerge.
He further noted that the PDP deputy governorship candidate's nomination terminated with the death of Ikonne, adding that, "it is therefore, not the law that the Abia deputy governorship candidate shall automatically be nominated as the governorship candidate of the party."
Explaining further, he noted that, "Section 187 of the 1999 Constitution provides that a governorship candidate can only be deemed to be validly nominated if he actually nominates a deputy. Further, a deputy governorship candidate can only be deemed elected if the governor that actually nominated him wins the election.
"Thus, for there to be a valid nomination, the PDP must conduct a fresh primary to produce a governorship candidate and the said candidate shall freshly nominate his (own) deputy, who may be Prof. Ikonne's deputy or any other person."
The legal practitioner also said according to "Section 34 of the Electoral Act, 2022, INEC has a duty to reschedule the date earlier fixed for the conduct of governorship polls in Abia State within 14 days, in light of these developments.
"May the wishes of good people prevail in Abia," Ogun concluded. (Punch)