Adeyeye knocks critics over Osinbajo's quiet Lagos return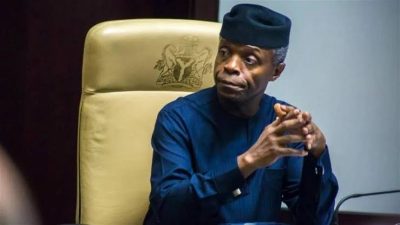 A chieftain of the ruling All Progressives Congress, Prof Sola Adeyeye, has commended former Vice President, Yemi Osinbajo for bowing out of office quietly without the usual pomp common with politicians in this part of the world.
The former Chief Whip of the 7th Senate stated this on Sunday in an exclusive interview with The PUNCH in Abuja.
This was as he flayed what he called the snide remarks which greeted a viral video of Osinbajo, alongside his wife, Dolapo, arriving the presidential wing of the Murtala Mohammed International Airport, Lagos from Abuja shortly after the conclusion of the handover ceremonies in the nation's capital last week.
Speaking with our correspondent, Adeyeye said, "I have received, for the umpteenth time, a video of the arrival of Prof and Mrs Osinbajo at the Lagos airport. The arrival was without the pomp that holders of exalted political offices receive in Nigeria. Along with the video are tendentious and silly snide remarks.
"It would have been easy for Yemi Osinbajo to do what most politicians periodically do. He could have instructed some of his staff and supporters to organise an impressive crowd to await his arrival at the airport.
"For far less than N10m, he could have distributed bales of ankara along with snacks and some 'chicken change' to singing women and noise-belching men.
"Needless to say, the capacity of a politician to stage such shows is directly correlated with the extent of his involvement in crude, appropriative, cash-and-carry politics."
Adeyeye, who was one of the major backers of Osinbajo to become President after ex-President Muhammadu Buhari, added that "May God bless Yemi Osinbajo for not embracing the wayward exhibitionism that often defines the thoughtless populism of the Nigerian political class. His job as Vice President has been done. A hallmark of the Christian life he professes is to be able to truthfully say with Apostle Paul, 'I know how to be abased, and I know how to abound. Everywhere and in all things, I have learned both to be full and to be hungry, both to abound and to suffer need. I can do all things through Christ who strengthens me Philippians 4:12-13."
According to him, "Osinbajo does not need a red carpet. The real losers are not Yemi and Dolapo Osinbajo but those whose superficiality makes them to define a leader by the carpet on which he walks."
On social media as well as the viral video, the former Vice President suffered some cruel remarks from the public, with some describing his decision to vie for the APC presidential ticket as an act of disloyalty to Bola Tinubu who would go on to pick the ticket and eventually win the February 25 presidential election. (Punch)