Alake, 53 Egba Monarchs Back Abiodun's Second Term Bid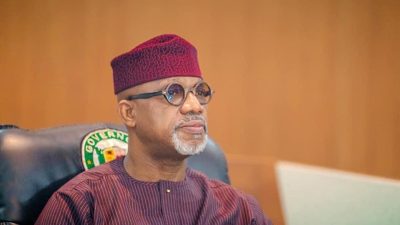 The Egba Traditional Council in Ogun State led by the Alake and paramount ruler of Egbaland, Oba Adedotun Gbadebo, on Wednesday endorsed Governor Dapo Abiodun's second term bid.
The monarchs declared their support for Abiodun after a meeting at the palace of the Alake and Paramount Ruler of Egbaland, Oba Adedotun Aremu Gbadebo in Abeokuta, the State capital.
The meeting was also attended by the Olowu of Owu kingdom, Oba Saka Matemilola, the Osile of Oke-Ona Egbaland, Oba Adedapo Tejuoso, and the Agura of Gbagurapand, Oba Sabuir Bakre.
Declaring their support for the governor, the Alake who spoke on behalf of the monarchs said, Abiodun had surpassed the expectations of the people hence he deserved a second term in office.
Oba Gbadebo described Abiodun as a promise keeping governor who according to him has developed every part of the State.
Alake noted that if the last two governors in state spent maximum eight years in office, nothing stops Abiodun to seek reelection into the office.
He said "What I'm asking the governor not forget is the road to the railway station in Abeokuta, please I know you can start doing something there to make the movement to that place easier for our people.
"The governor has done very very well and we all know that the last two governors spent eight years, why should our own governor here now who has done so much spend anything less than eight years?"
Responding, the governor described, the monarchs' endorsement as a motivation to do more for the people of the State.
Abiodun said, "I want to thank you very much for your continuous support for the successful implementation of this administration's building our future together agenda and particularly for this endorsement.
"This endorsement can only motivate me to do more, like they say 'the reward for hard work is more work' and to whom so much is given, so much is expected.
"It is another clarion call for me to enable me serve the people of this State thereby bringing more dividends to our people. Let me assure you that I will not let you down. We will not rest on our oars, we will continue to raise the bar."