Allow us present sole candidate for Alaafin stool, royal houses plead with Makinde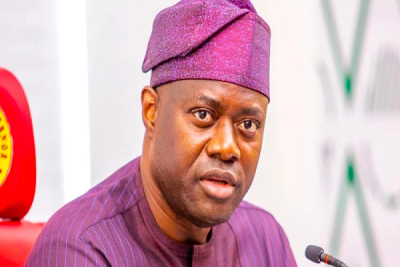 The nine royal families in Oyo which have been excluded from producing the Alaafin since 1859 have pleaded with Governor Seyi Makinde to allow them present a sole candidate for the throne this time as a matter of fairness and equity.
The nine families in a joint statement yesterday urged the governor to demonstrate justice and fairness as he did in the 2023 general elections by correcting historical imbalance.
They posited that in doing so, Makinde will write his name in gold in the history of Oyo.The families, now popularly known as Atiba 9, are in court seeking implementation of a 1976 state government's decision which directed the Alaafin traditional council to review the Alaafin Chieftaincy Declaration in order to accommodate the ruling houses.
The suit, which is being heard at an Oyo State High Court, Awe, has adjourned its next hearing to October 19, 2023.The Atiba 9 also commended Makinde for his position that the reverted Alaafin stool was not for sale.
The statement read: "Atiba 9, represented by their spokesman Prince Sina Afolabi, would like to express their commendation for the executive governor of Oyo State, His Excellency Governor Seyi Makinde, in his recent statement regarding the sacred stool of Alafin of Oyo. The nine sidelined ruling houses believe that the governor should be praised for his assertion that the prestigious stool is not for sale.
"The families, who have been marginalized for many years, including the Olawoyin house, which also belongs to the Alafin Atiba dynasty, urge Governor Makinde to uphold the sanctity of the law by honoring the ongoing court cases. They requested that the governor considers their plea to present a sole candidate from the nine ruling houses as a compensation for their historical exclusion from the Alafin stool, which has been enjoyed by their fellow brothers since 1859. (The Nation)