Amid Economic Crisis, Sanwo-Olu Approved N73.1m For Tinubu's Portrait, N44m For Vegetables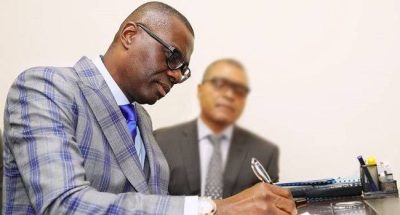 Available documents show that Governor Babajide Sanwo-Olu of Lagos State has approved the sum of N73.1 million for the production of the official portraits of President Bola Tinubu.
The project which was executed by the office of the Chief of Staff was awarded to Flolizvi Connect.
Tinubu was sworn-in as President on May 29, 2023, after defeating Atiku Abubakar of the Peoples Democratic Party (PDP), Peter Obi of the Labour Party and Alhaji Rabiu Kwankwaso of the New Nigeria Peoples Party (NNPP).
Sanwo-Olu also started his second term tenure on the same date.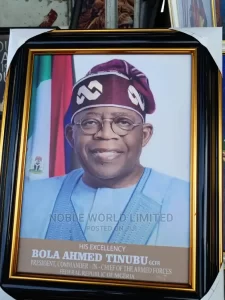 According to available information on the website of the Ministry of Economic Planning and Budget, there are less than 150 MDAs in Lagos.
Lagos State Government also approved the sum of N44.8 million for the clearing of vegetables within the Epe Mixed Development Scheme.
According to records from the state's Public Procurement Agency (PPA), the project was awarded in May to M/S Obak Nigeria Enterprises by the Lagos State New Towns Development Authority.
Politics Nigeria earlier reported that Sanwo-Olu also approved the sum of N7.5 million to replace liquid fragrance in his office and N3 billion to purchase rechargeable fans for the office of his deputy, Obafemi Hamzat.
Some public affairs analysts and netizens have described the governor's action as insensitive to the plight of the people amid the current economic hardship in the country.
But this is just a tip of the iceberg as further checks revealed that some questionable spending was approved by the state government.
The office of the Chief of Staff also got approval of N80.8 million on June 19, 2023, for the procurement of ten units of foreign used vehicles.
The same office got approval of N440.75 million for the purchase of a brand new Lexus LX 600 Bulletproof Sport Utility Vehicle.
Also, the office got N18.5 million for the supply and distribution of 2,000 broiler chicken across the local government areas and wards in the state.
Again, 400 million was approved for flying hour expenses on an ad-hoc charter plane.
The government also approved N152 million for the restoration of water supply at Iduganran palace, the official residence of the Oba of Lagos.
Records also showed that the state approved N581 million to renovate Saint Andrews Anglican Church in Oke-Popo area of the state. (Politics Nigeria)