Amotekun hails Buhari's performance in tackling insecurity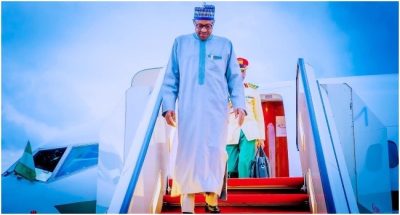 Brig.-Gen. Bashir Adewinmbi, (rtd), the Commander of Amotekun in Osun says President Muhammadu Buhari has performed excellently well in tackling insecurity in the country.
Adewinmbi said in an interview on Thursday that the Buhari administration had provided needed support to relevant security agencies to discharge their duties.
According to him, the quantum of security challenges facing Nigeria when Buhari assumed duty in 2015, have greatly reduced.
"Before we assess President Buhari's contribution to providing solutions to the insecurity in Nigeria, we need to identify the challenges of Boko Haram insurgency.
"Farmers-herdsmen clashes, Islamic Movement of Nigeria (Shiite), Niger Delta Militants, Cybersecurity Challenges, Kidnapping, among others.
"Looking at all these security challenges, President Buhari has done well by empowering and providing the needed support to the relevant security agencies and MDAs to tackle them.
"The Nigerian Army, Navy and Air Force have been structured to handle all the security challenges which had led to several successful counter operations in the affected areas.
"Farmers-herders clashes had reduced drastically due to good governance in the affected states, particularly in the South West geopolitical zone, where peaceful coexistence between farmers and herdsmen exists now."
The Amotekun security commander added that the President had also provided necessary policies and actions that mitigated insecurity in Nigeria.
"In the area of terrorism and insecurity, which are largely brought about by bad governance, poverty, weak judicial system, corruption, unemployment, poor security system, porous border and ethnic group and religious differences, President Buhari has performed very well in tackling them.
"The President has provided necessary policies and actions that have mitigated insecurity in Nigeria. He has recorded huge success in human and infrastructure development, leadership development, good governance.
"Reduction of corruption, building a proactive law enforcement agency, provision of security training and equipment, including reviewing electoral laws that will further democracy in Nigeria." he added.
Adewinmbi said Nigerians should appreciate the tremendous contributions of Buhari to the peace of the country.
The Amotekun commander, however, agreed that more still needed to be done to defeat terrorism and other insecurity challenges.
Adewinmbi suggested that the Federal Government should invest more in policing the country's porous borders.
"The government should make concerted efforts to recruit, train and deploy adequately equipped customs and immigration personnel across borders.
"The government needs to invest in more effective security technologies, which will benefit border security.
"These technologies can include body cameras, smart licence plate readers, smart vehicle underbody scanners, and more.
"Border guards, serving to secure the border, must have adequate access to these types of resources that enable them to do their jobs effectively", he said.
He added that good governance was the ultimate panacea to insecurity, as such there should be legislative and judicial collaboration, and appropriate reforms to address triggers of insecurity in the country.
NAN