Army General fighting Boko Haram returns home to meet wife in bed with man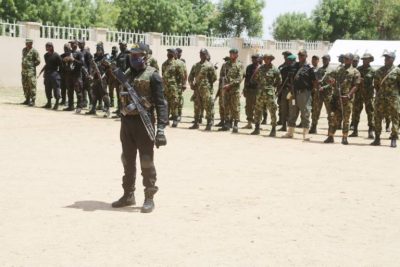 A man said to be a Nigerian Army General has returned home from his duties in the North East fighting Boko Haram to meet his wife in bed with another man.
This revelation was contained in a viral video where the General, still in uniform, was threatening at the top of his voice.
The male culprit, who was in boxer while the filming was on, sat on the edge of the box.
This was after a search of the house by the General produced the culprit who hid in a wardrobe, ostensibly as the presence of others apart from his lover, was noticed.
The General's wife, who knelt down after the discovery of the man in the wardrobe, had just towel around her body.
A male voice was heard persistently telling the General, who had a military belt with him: "General, General, please calm down."
The General expressed disappointment that while he was out fighting Boko Haram, his wife was busy enjoying herself with her lover in their matrimonial home.
According to the Officer, once he gets his salary, he sends it to his wife and her parents.
He questioned his wife after she told him she doesn't like a man that smokes but allowed her lover litter the house with cigarettes and used condoms.
He told his wife in a fit of anger: "Walahi, if you do not leave me, I will break your head.
"In my house?
"You are with my wife?
"After I went to Borno for two years.
"Two solid years fighting Boko Haram.
"You litter my house with condoms?
"Walahi today you are going to get something hot from me.
"I married you with my money and you do this to me?"
At this stage, the man sitting on the edge of the bed also went on his knees.
As the General continued talking, the wife's lover interjected, he shouted back at him: "Will you keep quiet and let me talk?"
His wife was also heard in the background, muttering: "Honey, honey…."
He then turned to obviously one of his lieutenants: "Adamu, you known how many hours we spent in the trenches working for this country?
"Now listen to me: Walahi, I will not kill you instantly.
"What I will do is to give you 26 strokes of this my belt."
But the wife and the culprit shouted: "Haaaaa."
Adamu then interjected: "General, please tamper justice with mercy."
The unidentified General then turned to his aide: "Adamu, Adamu, Adamu, Adamu, I do not want to get angry with you.
"Young man can you quickly lie down."
As the begging went on, he said: "If you tell me sorry anymore, I am going to deal with you."
Turning to the wife, he said: "You, I did everything for you.
"I made sure that my salary goes to you.
"I made sure that I send money to your parents.
"And this is all you can do to me?
"Walahi if I do not consume you in this house, call me a bastard."
The culprit then said: "Sorry sir, it was the work of the devil sir."
To which the General replied: "Did you marry this woman for me?"
To which he replied: "No sir."
And then landed the first lash of the belt on the man.
At this point, the wife spoke in Yoruba language: "Ha, Oluwa, mo gbe (Ha God, I am finished)."
The General then went ahead: "Right now, you have just today to live.
"Because if I do not finish you, my boy….
"Adamu, Adamu, call Shehu, call Shehu, put them on call that somebody, a criminal has been caught inside my house.
"Walahi, today is going to be a bloodbath…..
"You have the gut to do this to me?"
He then turned to the wife: "You said you do not like fair boys.
"And here you are in my house following one?"
To which the wife replied: "It is the work of the