ASUU strike: Gbaja meets NITDA, accountant-general over IPPIS, UTAS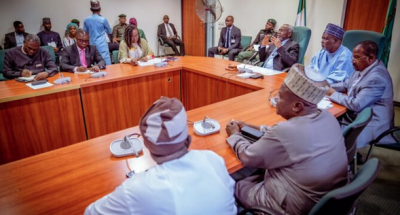 The leadership of the house of representatives, on Thursday, met with some government officials over the strike by the Academic Staff Union of Universities (ASUU).
Among government officials present at the meeting were the head of service of the federation (HoS), chairperson of the National Salaries, Incomes and Wages Commission (NSIWC), a representative of the National Information Technology Development Agency (NITDA), and the accountant-general of the federation.
The development comes less than 72 hours after Femi Gbajabiamila, speaker of the house of representatives, and other lawmakers held a closed-door meeting with the leadership of ASUU and Goodluck Opiah, minister of state for education.
ASUU had embarked on strike in February, halting academic activities in public universities for over seven months.
According to a statement by Lanre Lasisi, special adviser to the speaker on media and publicity, the NITDA representative told the lawmakers that the integrated payroll and personnel information system (IPPIS), the university transparency accountability solution (UTAS), and the university peculiar personnel and payroll system (U3PS) failed integrity tests which the agency conducted between March and June 2022.
Gbajabiamila asked the NITDA representative if the agency advised the government on taking action on the lapses found on IPPIS, which has been in operation by the government since 2011.
"The NITDA official said they were not in a position to do that," the statement reads.
"Gbajabiamila also asked if NITDA queried IPPIS platform, to which the official responded in the negative."
In his remarks, Wase expressed reservations about NITDA's action, saying it ought to have advised the government on the appropriate action to take in view of its discovery on the IPPIS.
Also speaking at the meeting, Sylva Okolieaboh, the acting accountant-general of the federation, reportedly said under no circumstance should employees dictate to their employers how they should be paid, faulting ASUU's insistence on the use of UTAS.
After deliberations, the speaker said a follow-up meeting with ASUU officials be held on September 29.
Meanwhile, as of August, ASUU had said the federal government had agreed to adopt UTAS as the payment platform for lecturers. (The Cable)