At 89, Otunba Balogun lives for others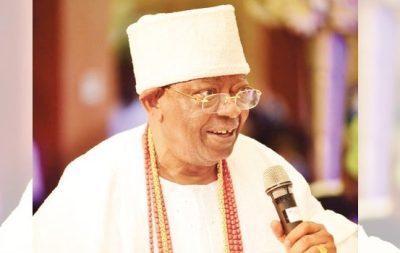 Good men, they say, hardly live for themselves. Their stories are never told with hisses in disillusionment, but rather intense interest, for the many positive morals they present to the larger society. So are the testimonies of Otunba Michael Olasubomi Balogun, CON, the Asiwaju of Ijebu Christians, an archetype of divine favour, founder of the FCMB Group and an apostle of humanitarianism who has constantly demonstrated in different ways and at all times, his total surrender to serving God and humanity.
"I am a child of God, and the good Lord has been kind to me. Whatever you see in me now is a divine gift. So why do I have to hold back in good deeds," Otunba Balogun, in a reflection stated this while giving insight into why he uplifts individuals, institutions and communities. He is that rare breed Nigerian synonymous with good works, excellence, panache, humanitarianism, and philanthropy, who graciously deploys personally earned fortune to assist others in need, be they individuals or institutions.
This season is another opportunity to commemorate his birthday, a very instructive occasion, far beyond the merriments that usually flow across the land, in different shapes and forms, to appreciate and thank the Almighty for all He has done in the life of a man, who holds his creator in utmost adoration.
It avails the opportunity not only to felicitate with him but also to use the intriguing phases of his successful life, to wit his ever-flowing rivers of humanitarianism, to impact lives, teach principles, shape generations, and indeed inspire others. A man who founded, nurtured, and sustained hugely successful organisations in our kind of clime qualifies for a study, for as it is commonly said, in every success, there is a story, and in every story, a moral. The Hallmarks of Labour Foundation recently wrote, "We are pleased to inform you that Otunba Olasubomi Balogun has emerged as Winner of the HLF Role Model Award for Excellence in Entrepreneurship and Corporate Governance. His selection is in recognition of his leadership and outstanding contributions to entrepreneurship and corporate governance which set him apart as a Great Nigerian Role Model." The HLF award memorialised some of his values – hard work, determination, perseverance, integrity, courage, and kindness.
Without a doubt, Otunba Michael Olasubomi Balogun would have lost count of the honours and awards from within and outside Nigeria celebrating this legend. As far back as 1994, he had become the holder of the title of Cavaliere dell'Ordine Al merito della Repubblica Italiana (Knight of the Order of Merit of the Republic of Italy), conferred on him by the Italian President. He holds several revered traditional and cultural titles in recognition and appreciation of the number of lives touched and transformed, not minding religious and ethnic divisions. They include Otunba Tunwase, the Olori Omo-Oba of Ijebu, Asiwaju of Ijebu Christians, the Baba Oba of Ijebu-Ife and the Asalu-Oba of Ijebu Mushin and many others from other parts of Nigeria. The Federal Government also decorated him with the high honour of Commander of the Order of the Niger (CON).
Baba, as he is fondly called, is a national treasure whose influence and good deeds extend beyond the shores of Nigeria. And there is no better moment to celebrate the life of an African visionary, entrepreneurial model, and astute banker (The Grand Master of Nigeria's financial services sector), than the occasion of his 89th birthday.  Born on March 9, 1934 at Ijebu ode, Ogun State, Otunba (Dr) Michael Olasubomi Balogun attended several schools, including Igbobi College, Yaba, Lagos, before heading to England, to study Law at the London School of Economics. Armed with the requisite qualifications, he returned to Nigeria and joined the Ministry of Justice, Western Region, as a Crown Counsel and Parliamentary Counsel in the Federal Ministry of Justice. He later moved to the Nigerian Industrial Development Bank, where he advocated the establishment of a merchant bank. He joined that same subsidiary of NIDB, ICON securities, in 1973.
Other major moves of his illustrious banking career include ICON Ltd and City Securities before he later applied for a merchant banking licence that birthed First City Merchant Bank.  Of the institutions and businesses that require the most and the best in setting up, a bank naturally comes first, requiring a concert of ideas from persons of diverse professional callings. Hence they are usually set up by groups of investors, not so in the case of FCMB, which is solely the idea of Otunba Balogun. Not just that he set it up, but he imbued it with a culture of excellence that has endured over time.  To his credit, he was the first to create a special dining room for bank employees and insisted they wear dark and conservative suits. And he also introduced the elegant, memorable, likeable, and relatable bank architectural model synonymous with the average FCMB branch, now widely adopted in different iterations by banks in the country.
Having attained the pinnacle of banking success, Otunba Balogun shifted his focus to philanthropy and now lives a life of giving more than anything else. He is using his success to give back and make a positive impact on others. People are often amazed at his level of generosity and how it has become a way of life. When something has become a way of life, it defies scheduling – it just happens. To institutionalise this way of life, he set up the 'Otunba Tunwase Foundation that has become a source of blessing to many.  One of his favourite quotes from the scriptures is, "Children are a heritage of the Lord…" because he loves and values children, which motivated him prioritise their well-being by building the Otunba Tunwase National Paediatric Centre – a massive multibillion-naira health care centre now fully donated as a gift to the University of Ibadan and University College Hospital, Ibadan. You will find that quote from the scripture etched on the massive infrastructure.
He also uplifts individuals and communities through scholarships, empowering the disadvantaged to pursue their dreams, achieve their goals, and make a positive impact beyond their communities. To his credit are over 300 education scholarships offered to Nigerians from different walks of life. So, it is unsurprising that many accomplished people always warm-up to him, saying he is their benefactor and role model. He is a man of the people who has it all and owes God a river of thanks.  The average man desires to attain long years before departure from this terrestrial plane, but many rarely make it to their 80th birthday anniversaries. For this reason, Otunba Balogun appreciates the grace of seeing multiple tens and still counting. Much more so, celebrating all these in the soundness of mind at almost 90.
His birthday anniversaries are occasions for giving thanks because it takes Godly grace to celebrate 89 and do so in good health, a sound soul in a sound body. Fervently, Otunba Balogun prays thus: "I want my God to use me. I want to spend the rest of my life serving God and humanity. I want my God to allow me always to show my appreciation. I am not asking for anything again in life. All the beautiful things of this life God has given to me."
He was 13 when he found peace with God and gave his life to Christ, despite coming from a family of staunch Muslims. Otunba shared his journey in the following words: "Incidentally, my late mother was educated. I confided in her that I was going to convert to Christianity. The late Bishop Segun, a priest at Porogun Church in Ijebu Ode, converted me at 13. Having accepted Jesus, I just found myself loving Him."
As he lives his life of selfless service, so do recognitions and awards flood his way. He also has the American Biographical Institute Inc's Distinguished Leadership Award for outstanding contributions to the development of investment banking.  Otunba Michael Olasubomi Balogun is also a recipient of the University of Ibadan's Degree of Doctor of Laws (Honoris Causa) in recognition of his outstanding achievements, both in the field of Law and his contributions to the socio-economic development of Nigeria.  For a man of his status with chains of business concerns to think about, a sound mind is a priority asset, yet it is an asset that has not eluded him in any way. For this and the gift of four accomplished sons and a peaceful, loving, and caring wife as their mother, he has God to thank. "God gave her to me," he says philosophically, "I believe there was a manifestation of God's influence on my choice," with each passing day acting as confirmation of this.
 As the Olori Ebi (and head of all the princes) at the Arojojoye Ruling House in Ijebu Ode, Otunba Balogun rolls out the drums to appreciate, celebrate and thank the Almighty God for keeping him alive, strong and sound-minded with cerebral memories even at the age of almost 90, let us join his family, friends, staff and the good people of Ijebu Ode, Ogun State to celebrate the gift -Olori Omo-Oba Akile Ijebu, to humanity. Let all men of goodwill doff their hats today for this rare gift of a man and chorus for him, the prayer of many more days in the land of the living, in good health of body, mind and soul.
Chief Ibeayoka is a public opinion analyst