Bridge collapses in Pittsburgh Pennsylvania just before Biden's visit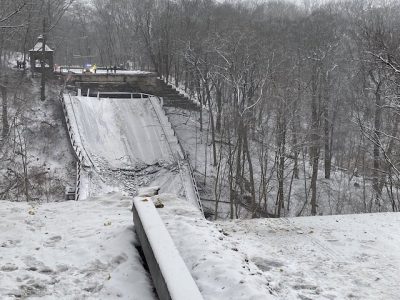 One of Pittsburgh's 3,353 dilapidated bridges collapsed Friday morning, just before President Joe Biden visits to tout his $1.2 Trillion bipartisan infrastructure law.
Few people were injured, officials said.
Pennsylvania Lt. Gov. John Fetterman said on CNN there were no reported fatalities but some injuries.
He noted that traffic was lighter this morning because schools were on a two-hour delay.
Fetterman said the entire span of the bridge "completely collapsed" into Frick Park and the walking trail below.
He said the fact that the bridge fell into the walking trail helped rescue workers reach people who were on the bridge.
This incident comes as President Joe Biden heads to Pittsburgh to tout his Bipartisan Infrastructure Law.
The law will provide $1.63 billion to Pennsylvania in federal funding for bridges, the third highest figure for any state.
The bridge program will provide $27 billion across the country.
Pennsylvania has 3,353 bridges in poor condition, the second most after Iowa, according to federal data.
But the Biden administration has repeatedly said it is up to local officials to determine which bridges receive how much money.