Buhari, Emefiele, and cabal plot to seize CBN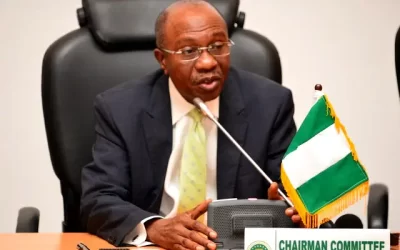 "In the absence of the cash, there must be the lash."Frederick Douglass, 1818-1895, Black American Nationalist.
It is always sad when what would have been a great career ends in petty politics.
It is a matter of cash. The attempt to arrest  theGovernor of the Central Bank of Nigeria, CBN by the Department of State Service, DSS, using   ex-parte Court motion is not about law or justice. It is basically a manifestation of the struggle to control the CBN in the dying days of the Buhari administration.
As any regular reader of my articles on the CBN and Emefiele would  agree, I have not always supported  his  role in this tragedy called Buhari administration. He got too involved in making fiscal policy; and was trapped into opening the purse of the CBN to allow a  wasteful  government to borrow from the bank more than was constitutionally permitted.
His latest measures, aimed at saving the economy from collapse, caught the cabal, in the absence of a real President, by surprise. The ton-loads of cash which had been draining into their private pockets are about to stop.
In addition, they still have monumental problems concerning what to do with all the trillions of cash stashed away in secret places now that new bills had been introduced. Emefiele, like the former comrade who turned against his former allies must be eliminated  – one way or another.
PARALLEL HISTORY – SOLUDO AND EMEFIELE
"In a sick country,  every step to health is an affront to those who live on the sickness." Bernard Malamud, 1914-1986, in THE FIXER.
Every Nigeria leader, in an important position, should engage an archivist who would find out for them what happened if the measure contemplated had been undertaken before.  Emefiele is not the first Governor to get into deep trouble on account of currency change proposal.  In 2009 Soludo was on his way to a second term as Governor when he embarked  on  re-decimalisation of our currencies, to bring down inflation.  Re-decimalisation meant that the N1000, N500, N200 and N100 bills would by N100, 50, 20 and 10 bills. The rest would be in coins.
The announcement was made at the CBN Auditorium, where Soludo also announced plans, under FSS-2020,  to make Nigeria, African financial hub  by 2020. He was also on record for believing the  nonsense called VISION 2020. All those dreams have turned out to be delusions of the worst kind. But, the only measure which sealed Soludo's fate was re-decimalisation. Sitting directly behind me in the auditorium was a publisher of a National Newspaper, who immediately pronounced the proposal "Dead on arrival".
I immediately got in my car and drove to Kano; knowing that some of the power-brokers would have received the news. A meeting was on. Having lived and worked in Kano for years; and a member of Kano Club, I had easy access to the meeting. What was most disturbing to the movers and shakers of Kano was the idea that those of them who had become billionaires would revert back to just millionaires; and millionaires  to  "thousand nairas" (a term coined by them).
The meeting concluded, around midnight that "Soludo must go". Two people were assigned to call on President YarÁdua and tell him their decision. I knew that night that Soludo had committed a blunder. He should have waited until he got the second term sealed and delivered.
Soludo's sack by the cabal then illustrates one of the sad ironies of Nigerian governance. Banking Consolidation, which he introduced hastily in 2006,had predictably collapsed  by 2008. Shares bought at N20, 30, 40 and even 50 each, had  crumbled to less than N10. Trillions of Nigerian wealth was wiped out; the banks were in distress and AMCON was getting ready to buy N5-6 trillion toxic loans from people who won BANKER OF THE YEAR awards.   Millions of Nigerian investors never recovered. Those were grave enough reasons to sack Soludo. Instead, he  got sackedfor changing  the  currency; which, incidentally was a good decision to curb inflation.
DIVERGENCE OF INTERESTS
"There is no fight like a fight between the closest of comrades over notions of betrayal." David W Blight.
Emefiele's currency change struck deeper into the subversive interests of the cabal than he realised. The five months left for Buhari to vacate office represented their last chance to clean up; and leave Nigeria a basket case economically. They expected Emefiele to allow business as usual to continue till the end.
Future historians will certainly be asking themselves how, with a National Assembly, NASS, full of Professors, lawyers, graduates from good universities,  Ministers including Professors and SANs as well as millions of well-educated Nigerians, the President was allowed to accumulate N23.7 trillion ways and means debt from the CBN without the two being kicked out. Every conspiracy unravels the minute there is divergence of interests- as now.
WAYS AND MEANS – THE ELEPHANT IN THE ROOM
Most Nigerians might not realise it, the main reason why the cabal wants Emefiele out of the way (dead if possible because terrorism is a capital crime) is because of the management of  Ways and  Means.  Several sections of the constitution were violated since 2015. But, the real cause of the problem is Section  38 of the CBN Act, as amended, which states as follows:
"Any money collected by the federal government as loan or emergency fund in the form of Ways and Means Advances must be refunded before collection of another one."
Buhari's  government, since inception, has repeatedly collected funds under Ways and Means without paying back the previous loan. That is why the  amount outstanding is now N23.7 trillion. Realising that the FG cannot possibly repay N23.7 trillion before May, the government has proposed a restructuring plan unknown to law which the Senate would have approved if Loyal Lawan has his way. It was only the stout opposition of patriotic Senators which saved the day.
As it is, Buhari cannot  legally  request for loan under Ways and Means until the end of his tenure in May. Consequently, the FG will almost crawl to a stop before March this year.  But, for the political and social upheaval that will ensue, that will be the fitting requiem for the worst government Nigeria has ever known.
The most important thing is this. Emefiele needs the support of patriotic and serious Nigerians. He should not resign and hand CBN to the cabal.
•Written By Dele Sobowale