CLOSE-UP: Meet Black Sherif, the Ghanaian artiste turning heads with 'Kwaku The Traveller'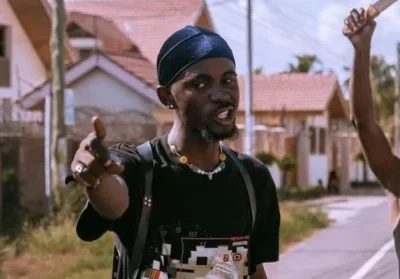 You probably don't need to listen to Black Sherif, the fast-rising Ghanaian musician, twice before realising that he is super talented.
With an innate ultra-confidence and Usain Bolt-like lyricism pacing relentlessly on the customary heavy trap beats, the rapper is surely one to watch out for in the African music space.
After the success of 'First Sermon', his hit track released in 2021, Sherif came through with 'Second Sermon' which also caught the attention of music listeners across Africa — before his monster hit 'Kwaku The Traveller'.
GROWING UP AND DITCHING DANCING FOR MUSIC
Black Sherif, whose real name is Mohammed Frimpong, started out as a dancer at Kumasi Academy where he had his secondary education.
Previously known as Blacko, the rapper later switched from dancing to music.
At 17, he started looking for ways to break into the limelight in the Ghanaian music industry. This also prompted him to audition for talent shows such as Mentor X and MTN Hitmaker.
Although he never made it past the audition stages at every attempt, he did not give up. Amid his struggles, Sherif came through with 'Cry For Me', his first-ever single.
In 2020, he released 'Money', the hit single that catapulted him to stardom.
With the track, he started to gain attention in Ghana while his style of music also garnered positive reviews.
By 2021, Sherif became very popular in his home country with 'First Sermon' and 'Second Sermon' respectively.
In an interview, he revealed that 'Second Sermon' was inspired by the pain of losing his "favourite cousin."
"Second Sermon' is a big storytelling song. I made 'Second Sermon' two days after 'First Sermon', and like two weeks before that, I lost my favorite cousin sister Mariama," he had said.
He also recounted how he delved into music despite religious constraints.
"I have loved music since I was a kid. I just didn't know I was going to make a career out of it. I am a Muslim, did you know I am a Muslim?" he asked.
"My name is Mohammed Ismail Sharif. In Islam, music is more like a sin, you shouldn't make a career out of it if you are a Muslim. The music was chasing me but I was always dodging it. Although, I was popular for dancing in senior high school."
With widespread reception and several endorsements pouring in, Sarkodie, the Ghanaian rapper, joined many A-list celebrities to promote his music on their social media pages.
On March 26, Black Sherif clinched four prizes at the 2022 edition of the 3Music Awards held in Accra.
The awards are 'Breakthrough Act of the Year', 'Hip-Hop Song of the Year', 'Song of the Year', and 'Hiplife/Hip Hop Act of the Year'.
LINKING UP WITH BURNA BOY AND GOING VIRAL IN NIGERIA WITH 'KWAKU THE TRAVELLER'
Speaking on how he linked up with Burna Boy, Black Sherif said he believed Poco Lee, the Nigerian dancer and influencer, had introduced him to the 'African Giant' crooner by playing 'Second Sermon' to him.
He said a member of Burna Boy's team would later reach out to him after which he connected with the 'Ye' singer himself through a video call.
The Ghanaian said the first call he had with Burna Boy lasted for about 20 minutes and that the remix they eventually worked on wasn't part of their conversation on that first night.
The rapper, who has not met Burna physically, said it was after numerous calls that they eventually agreed to work on a remix for 'Second Sermon'.
"I think it was Poco Lee who played the song for Burna Boy. Poco is a fan but he's a friend now," he said.
"He has a huge fan base in Nigeria. Burna loved the song and someone from Burna's team reached out to me on WhatsApp. 
"We spoke for like 20 minutes on a video call and he was just advising me. He said I should keep my head up and keep going. We didn't talk about the remix that night. It was later that we did."
Transcending his cocoon in Ghana and realising his reception across the continent, the youngster came through with 'Kwaku The Traveller', his 2022 song, which is currently topping Nigerian Apple music.
The song has also snagged the first spot on US Shazam, becoming the most popular song to be searched for on the platform as of Friday.
An interesting lyrics from the song: "Who never f**k up, hands in air. No hands" has caught the attention of many music lovers, especially the populous Nigerian youths, who can't keep the somewhat philosophical statement away from their mouths.
With more than 10 singles to his name, the Ghanaian artiste promised to release his first extended play (EP) next year.
"The EP is coming next year. With the EP, I will be doing 6 to 7 songs on it. It will just be all about me. My sound, my growth and my experience," he said.
(The Cable Lifestyle)