Dangote Plans $750m Bonds To Complete Refinery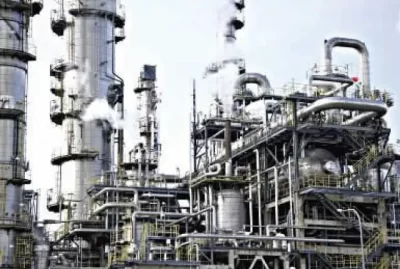 Dangote Refinery has concluded plans to raise $750 million through bonds to complete its refinery project in the Lekki, Lagos State, Fitch Ratings has said its company's overview and report.
The 650,000 barrels per day (bpd) integrated refinery and petrochemical project will help in reducing Nigeria's petroleum refining cost as well as the cost of transportation.
The refinery project was initially scheduled for completion in 2019, but fund-related complications and the COVID-19 pandemic threw a spanner in the work and the completion period was pushed forward to 2023.
At least $1.1 billion is required to complete the facility which has been postponed twice in the last four years. According to Fitch Ratings, Dangote Industries Limited (DIL), Dangote planned to raise $750 million from the Nigerian bond market with Dangote Oil Refining Company Limited (DORC) and Dangote Fertiliser Limited (DFL), DIL's subsidiaries, to be used as co-obligors under the proposed
programme.
Part of the funds will be disbursed to finance the $1.1 billion extra cost for the completion of the refinery project, while the rest of the capital would be sourced from either asset sale in Dangote Cement or the refinery project itself in a bid to avoid another extension and complete the refinery project next year.
It said: "If the transaction is not successful, or should completion costs overrun or market conditions in the cement or urea sector deteriorate materially, we do not believe that DIL's existing creditors would have further lending capacity."We believe that further asset sales, either in cement or stakes in the projects, would be the more likely options to address funding of the refinery."It would be recalled that at a recent foreign investors' meeting in New York, the Central Bank of Nigeria  (CBN) 's Governor, Godwin Emefiele stated that Nigeria's import of petroleum products that accounts for 30 per cent of its forex can be reversed by the successful commencement of operations at the Dangote Refinery.
He noted: "The Dangote refinery once it begins production would be a major FX saving source for Nigeria," the Governor said, adding that "if the 650,000" daily barrels that will be produced from the refinery will "be sold in Naira it would be a major FX saver for Nigeria."Nigeria's dollar supply challenges come from its dependency on the foreign earnings from crude oil, which has continued to account for over 90 per cent of its dollar source.
Although on the rise, the falling global crude price always reduces the dollar supply in Nigeria which consequently leads to the naira devaluation. The continuous devaluation of Nigeria's local currency has remained a key concern for both local and foreign investors who are looking to preserve the purchasing power of their savings and investments. Foreign investors have had their money trapped in Nigeria's debt market since March 2020 amid a dollar shortage.