Deputy Senate Ekweremadu Sells Two US Properties Below Market Value To Stop Nigerian Gov't From Seizing Them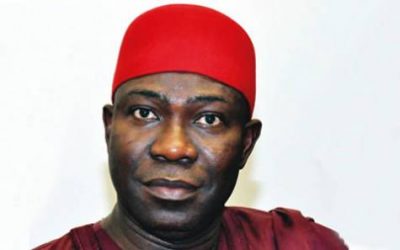 Deputy Senate President, Mr. Ike Ekweremadu, has sold two of his three properties in Kissimmee, Florida, United States of America. The properties, which were recently exclusively reported by SaharaReporters as owned by him, are townhouses at 2747 Club Cortile Circle and 2763 Club Cortile Circle, Kissimmee, Florida. The properties which were bought in 2008 for $200,000 each were put on the market in January and sold for $150,000 to the same buyer on February 20 2018.
SaharaReporters' investigations revealed that both properties were sold below prevailing market value in Mr. Ekweremadu's apparent bid to avoid forfeiting them to the Federal Government. He has also put the third one, situated at 4507 Stella Street, Bellavida Estate Kissime, Florida, up for sale, but he is yet to find a buyer.  The owner of the property said to be worth $500,000, is still listed as the Deputy Senate President, Ike Ekweremadu with his Enugu address clearly stated on the property did.
The two houses already sold were bought in January by a company, Y-Kat Enterprises Inc., with an address at 10143 Foxhurst Ct Orlando, Florida.
When SaharaReporters contacted the person listed as the owner, Mr. Russel Daya, he declined to speak with our reporters, claiming it was too late in the night. When asked if he knew Nigeria's deputy Mr. Ekweremadu, he answered in the negative and hung up immediately.
The fire sale of the properties has, however, not concealed that they were previously owned by Mr. Ekweremadu.
Ekweremadu's 4507 Stella Street, Bellavida Estate, Kissimmee, FloridaSahara Reporters Media
Documents exclusively obtained by SaharaReporters from Osceola County Tax Collector show  Mr. Ekweremadu as the taxpayer on the property at 4507 Stella Street, Bellavida Estate Kissime, Florida, till the end of 2017.
A notice of Ad Valorem and non-Ad Valorem taxes from the tax collector, bearing Mr. Ekweremadu's address of 4 Iyienu Street, Independence Layout, Enugu, showed that the Deputy Senate President paid a total of $6, 728.37 as tax on the house as at December 2017.
On the property at 2747 Club Cortile Circle, Kissimmee, Florida, the tax collector's documents showed that the Deputy Senate President paid a total of $1,665.91 as at December 2017. The document similarly bears Mr. Ekweremadu's Enugu address. Likewise, the Deputy Senate President paid taxes on the one at 2763 Club Cortile Circle, Kissimmee, Florida.
Mr. Ekweremadu owns 22 properties across the world, worth millions of dollars. Though registered in his name, many of the properties were missing from the Deputy Senate President's asset declaration form he submitted to the Code of Conduct Bureau in 2015, an indication that he hid them to avoid questions on how he acquired them.
Saharareporters had recently detailed Mr. Ekweremadu's properties in Nigeria, UAE, UK and the US. The report showed that in addition to the three properties in the US, the Deputy Senate President did not declare his ownership of 11, Evans Enwerem Street, Apo Legislative Quarters, Abuja; Plot 2633 Kyami, Abuja; Housing Estate (Plot 1106 CRD, Cadastral Zone 07-07, Lugbe, Abuja; and Plot 2782 Asokoro Extension, Abuja.
Similarly, he neglected to declare houses at Citi Park Estate, Gwagwalada; Plot 1474 Cadastral Zone BD6, Mabushi; Congress Court; Flat 1, Block D25, Athletics Street, (24th Street) Games Village; and Plot 66, 64 Crescent, Gwarimpa Estate, all in Abuja.
Two London properties, Flat 4 Varsity Court, Harmer Street, WIH 4NW, London; and 52 Ayleston Avenue, NW6 7AB, London; were equally omitted from his assets declaration form dated 5 June 2015.
In addition to these are his properties in the United Arab Emirates. These include Room 1903, The Address Hotel, Downtown Dubai; The Address Boulevard, 3901, Dubai; two Flats of Burij Side Boulevard (the signature), Dubai; Emirate Gardens Apartment No. EGG1/1/114, Dubai; Emirate Gardens Apartment No. EGG1/115, Dubai; and Apartment No. DFB/12/B 1204, Park Towers, Dubai.
Others are Flat 3604, MAG214, Dubai; and Villa No 148, Maeen 1, The Lakes Emirates Hills, Dubai.
On Thursday, the Federal Government asked the Federal High Court in Abuja to freeze undeclared assets traced to the Deputy Senate President. The Federal Government, via an ex-parte motion (FHC/ABJ/CS/284/2018), applied for an interim court order for the temporary forfeiture of the undeclared properties pending the conclusion of further inquiry/investigation by the Special Presidential Investigation Panel for the Recovery of Public Property and possible arraignment of Mr. Ekweremadu.
The motion was filed on behalf of the Federal Government by Lagos lawyer, Mr. Festus Keyamo (SAN), who based it on Section 330 of the Administration of Criminal Justice Act, 2015, Section 8 of the Recovery of Public Property (Special Provisions) Act, section 44 (2) (K) of the Constitution.    (SaharaReporters)