Despite opposition from China, Pelosi begins Asia tour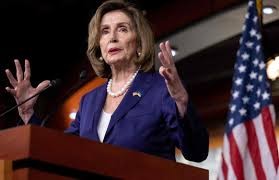 U.S. House of Representatives Speaker, Nancy Pelosi, has kicked off her tour of Asian countries despite several warnings from China.
She is set to arrive in Singapore on Monday amid intense speculation that she may risk the wrath of Beijing by also visiting Taiwan.
According to a statement made by Pelosi's office on Sunday, she will be leading a congressional delegation to the area, which will make stops in Singapore, Malaysia, South Korea, and Japan.
Taiwan, however, was not mentioned.
China sees the U.S. delegation's visit to Taiwan as a positive indication of the island's pro-independence movement.
Although there are no formal diplomatic relations between the U.S and Taiwan, Washington is required by law to give Taiwan the ability to defend itself.
A visit by Pelosi, who is third in the line of succession to the presidency and a long-time critic of China, would come amid worsening ties between Washington and Beijing. Republican Newt Gingrich was the last House speaker to visit Taiwan, in 1997.
During a phone call last Thursday, President Chinese Xi Jinping warned his U.S. counterpart Joe Biden that Washington should abide by the one-China principle and "those who play with fire will perish by it".
Biden told Xi that U.S. policy on Taiwan had not changed and that Washington strongly opposes unilateral efforts to change the status quo or undermine peace and stability across the Taiwan Strait.
Reuters