Dianne Feinstein: US longest-serving female Senator dies at 90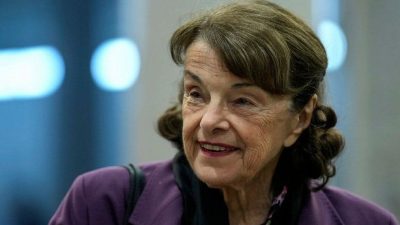 Veteran Senator Dianne Feinstein, a titan of US political history who notched a string of legislative achievements during a trailblazing three-decade career in the Senate, has died. She was 90.
Feinstein, the Senate's oldest member, was celebrated as a pioneer for women in politics and a hugely effective legislator. During a career that began in the local California government, she grew to be a tough check on administrations from both parties.
She had already announced her retirement this February as her health worsened and following a number of missteps that threatened her legacy.
Her death is not expected to shift the tight balance of power in the Senate, with the Democratic governor of California appointing a temporary replacement for the remainder of her term, which ends in January 2025.
"Senator Dianne Feinstein was a pioneering American. A true trailblazer. And for Jill and me, a cherished friend," US President Joe Biden said in a statement.
Feinstein's chief of staff James Sauls hailed her as a rare example of a woman who could call herself "senator, chairman, mayor, wife, mom, and grandmother."
"Senator Feinstein was a force of nature who made an incredible impact on our country and her home state," Sauls said in a statement announcing that she had died late Thursday.
The Californian, who was widowed last year, became San Francisco's first female mayor after the fatal shooting in 1978 of city official Harvey Milk, then the country's only openly gay politician, and mayor George Moscone by a disgruntled former colleague.
Other dramatic moments include surviving an attempted bombing of her home. She was also near the scene of an infamous double murder in San Francisco.
– 'Trailblazer' –
Feinstein missed almost three months of work in Congress earlier this year due to a bout with shingles and used a wheelchair to get around on her return.
She had taken part in Senate votes on Thursday morning but was absent from a Senate judiciary committee hearing.
"She didn't feel well this morning," the panel's chairman, Dick Durbin, said, according to politics news outlet The Hill.
Summing up her dedication to public service, Feinstein once said that "even with a divided Congress, we can still pass bills that will improve lives. Each of us was sent here to solve problems."
Democrats in her home state led tributes as news of the senator's death cast a pall over Congress, with staff placing flowers on Feinstein's desk in the Senate chamber.
An emotional Chuck Schumer, the Senate's Democratic majority leader, described Feinstein as a "hero for so many" who "changed fabric of the nation," while his Republican counterpart Mitch McConnell hailed the devoted service of a longstanding friend and "remarkable individual."
An icon in Senate politics who took the lead on hundreds of bills, Feinstein rose to the chairmanship of the powerful intelligence committee — another first for a woman.
Her achievements include writing the 1994 assault rifle ban and producing a 6,700-page report on the CIA torture program during the US "war on terror."
– Pragmatist –
But it was in her home state of California where she first made her mark.
As the first female Board of Supervisors president in San Francisco, Feinstein led the city through the tumult that followed the Milk assassination.
She replaced the mayor and served for 10 years as a no-nonsense pragmatist, willing to work across the aisle, balancing nine budgets in a row and being declared the nation's "Most Effective Mayor" by local government bible City and State Magazine.
Latterly, the pandemic and her husband's declining health curtailed her public appearances outside of Congress and she faced misgivings about her declining cognitive abilities, raised by figures in her own party.
Feinstein's death reduces the contingent of Democrats and their allies in the 100-member Senate to 50.
Republicans blocked a Democratic request to temporarily replace Feinstein when she was absent in April, creating a headache for Democrats who needed her to maintain their majority on the judiciary committee to advance Biden's judicial nominees.
But the Senate regularly approves committee assignments for new senators after their predecessors have resigned or died, and analysts say a blockade in this case would be less likely, if not unprecedented. (AFP)