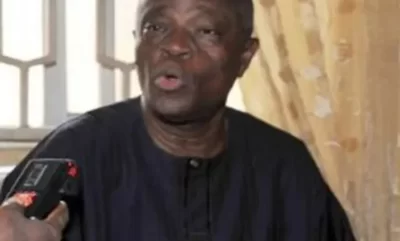 Senator Adeseye Ogunlewe, a prominent member of the All Progressives Congress (APC), has said that politics in Nigeria is not accessible to the poor.

POLITICS NIGERIA reports that Ogunlewe made these remarks while discussing the political landscape surrounding the 10th National Assembly's leadership race.

In a recent interview on Arise Television's Morning Show program, the senator emphasised that Nigerian politics primarily caters to the wealthy elite and lacks opportunities for individuals with limited financial resources.

He stated that those without substantial funds should avoid entering politics altogether, as they would face insurmountable obstacles. Ogunlewe maintained that this reality remains unchanged, reiterating his comments several years ago.

"The truth is, no matter how you depict it, Nigerian politics is designed for the affluent," Ogunlewe emphasised. "If you lack sufficient funds, it is best to refrain from pursuing a political career because you will inevitably encounter countless barriers. Therefore, a person from a modest background cannot aspire to become a senator or harbour dreams of becoming the President of the Senate."

Ogunlewe emphasised the need for a solid financial foundation to engage in Nigerian politics actively.

According to him, individuals must possess substantial resources to navigate the intricate dynamics of the political sphere successfully.

"It is implausible for someone who is financially deprived to secure a senatorial position in today's Nigeria. They are simply not impoverished," Ogunlewe confidently stated.