DR Congo Nobel Winner Mukwege Declares Presidential Bid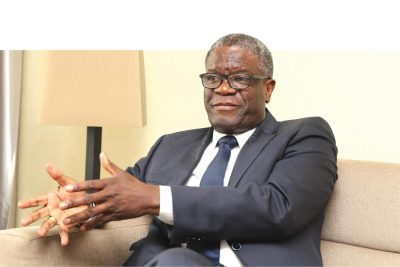 DR Congo's Denis Mukwege, a surgical gynaecologist who won the 2018 Nobel Prize, announced a presidential bid Monday ahead of elections in the central African nation planned for December.
Speaking to a packed auditorium in the capital Kinshasa, the 68-year-old told supporters he was standing in order to put a stop to insecurity and poor leadership.
"I agree to be your candidate for president of the Republic," he told the gathering.
Mukwege was jointly awarded the Nobel Peace Prize in 2018 alongside Yazidi activist Nadia Murad for efforts to end sexual violence as a weapon of war.
The pioneering doctor founded the Panzi hospital and foundation in conflict-torn eastern Democratic Republic of Congo after witnessing the horrific injuries and diseases suffered by rape victims.
Dozens of militias have ravaged eastern DRC for years, a legacy of regional wars that flared during the 1990s and 2000s.
One such militia, the M23, has captured swathes of territory since launching an offensive in late 2021.
Parliamentary and presidential elections are scheduled to be held in the DRC on December 20.
Incumbent President Felix Tshisekedi is running for re-election.