Edo PDP Chiefs Regroup Under Orbih To Confront Obaseki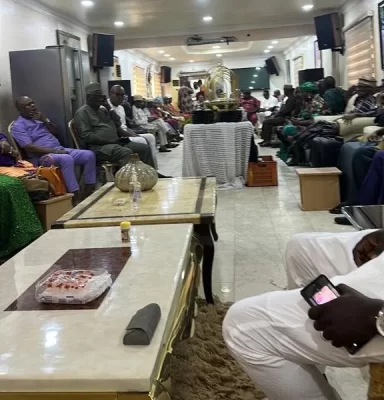 With Governor Godwin Obaseki of Edo State still trying to subdue his unrelenting deputy, Philip Shaibu, the governor is set to open another war front with another set of party chiefs belonging to the mainstream of the Peoples Democratic Party, PDP with allegiance to Chief Dan Orbih.
The party chiefs who identify themselves as the legacy PDP and in control of the majority of executive officers at the state and local government levels after meetings last weekend resolved to position themselves to produce the governorship candidate of the party for the 2024 election.
GWG.ng gathered that series of meetings were held last weekend in Ogbona, Orbih's country home and in Benin City where it was among others resolved to confront Obaseki's agenda for the 2024 election.
Remarkably, the meetings were graced by local government executives from the 18 local government areas of the state with a sizeable number of state exco members and some prominent party leaders.
However, conspicuously absent was the state chairman of the party, Dr Tony Aziegbemi who is aligned to the governor.
As part of their strategies to position the party for 2024, a source at the meetings disclosed that it was agreed to broaden the membership of the party towards strengthening the position of the party as led by Orbih ahead of the governorship election.
Party chiefs at the meeting also took turns to thank Chief Orbih for what they described as his services both as state chairman and national vice chairman of the party.
Among members of the state executive in attendance were Hon. Harrison Omaigbon State Deputy Chairman, Chief Hilary Otsu, State Secretary; Mrs Lindsay Sorae, State Woman leader; State Youth leader, Hon. Ceaser Treasurer, Dr Imoga Auditor, Barr. Nosa Ogieva, the state Publicity Secretary and local government party chairmen and women leaders.
Also present were Hon. Ogbeide Ihama, Hon. Joe Edionwele, Hadiza Umoru, Hon Oni Edigin, Deacon Bayo Ogbomo former state secretary, Hon. Paragon Osakwe, Hon Monday Ihama,Hon Lucy Omaigbon among others.
With the meetings over, eyes on the PDP in Edo State will now be looking out on how the Obaseki and Orbih tendencies engage themselves.