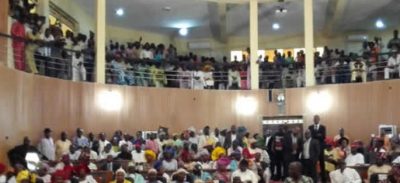 The Ekiti State House of Assembly has set up a three-man ad-hoc committee to investigate the N10bn supplementary budget passed by some members of the Assembly in the twilight of the regime of the immediate past Governor, Ayodele Fayose.
The ad-hoc committee has the Deputy Speaker, Olusegun Adewumi, as chairman with Akinniyi Sunday and Fajana Ojo-Ade as members.
The committee was raised at the plenary presided over by the Speaker, Adeniran Alagbada, on Tuesday.
The session applauded the State Governor, Dr Kayode Fayemi, for cancelling the education tax imposed on pupils by the Fayose government.
Leading the debate, the Leader of Business, Gboyega Aribisogan, said Ekiti people had earlier rejected the tax. He added that a religious organisation criticised and instituted a legal action against the then government.
Alagbada described the abrogation of the education tax as a burden taken away from the people. He prayed that the Almighty God should continue to guard the governor towards leading Ekiti to the right path.
In his contributions, the Minority Leader, Sunday Akinniyi, said the cancellation was a demonstration of the love the governor had for Ekiti people.
They described the action as a step in the right direction and stressed that it would reduce the burden on parents.
Recall that the Assembly had on September 13 passed the supplementary budget for Fayose's approval.
Fayose while signing the budget had said, "Fayemi signed his own on September 15, 2014,  exactly a month to his leaving office, now I'm signing my own on September 14. They should keep quiet and stop crying wolf, I'm still the governor.
"This revised budget being signed today September 14, 2018, Fayemi did sign the same kind of budget on September 15, 2014, when he had less than a month to leave office. Maybe he has forgotten, but Ekiti people are not suffering from dementia and are students of history.
"The Clerk of the House in 2014 when Fayemi signed his revised budget, Mr. Tola Esan, is still the clerk and he is here today. We are not robots and when there are things to attend to,  we will still do that before we leave office."  (Punch)