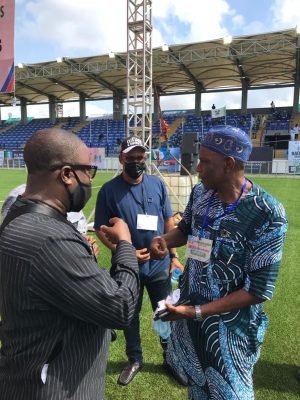 _… *Inec, Party Leaders Describe The Congress as Peaceful and Credible*_
The Special Adviser to the Lagos State governor on DAWN Commission Matters, who Served as Chairman, APC Lagos State Congress Planning Committee, Engr. Adekunle Olayinka, on Saturday, October 16, 2021 along with other members of the committee appreciated God Almighty for the successful conduct of the congress which has been described as one of the best in the country in recent times.
Hon. Olayinka, who is known for his humility and respect for order made sure that self and parochial interests were not allowed to becloud his good sense of judgement as he ensured the conduct of a rancour free and most successful state congress that will for a long time remain a positive reference point for posterity.
The congress which was led by governor Babajide Sanwo- Olu and took place at Onikan Stadium saw Hon. Cornelius Ojelabi emerged as Lagos state APC chairman.
Also elected were 35 other members of the state executive of the party in a peaceful, democratic and transparent manner.
The Lagos State Congress was conducted by the 7 Member Committee from Abuja.The seven man committee was ably led by Mr Adebayo Adelabu.
The Independent National Electoral Commission (INEC) monitored as well as endorsed the final outcome having adjudged it very orderly, peaceful and credible.
Other elected state executive members sworn in alongside the new state chairman were
Moshood Olanrewaju Mayegun and Hon. Sunmi Odesanya as state deputy chairman and secretary respectively.
The list also includes: Asst. State Sec. Animausun Adejumoke Mariam, Biodun Aigbe, Treasurer, Mr Oludele Sonola, Assistant Treasurer, Publicity Secretary, Hon. Oluseye Oladejo, Assistant Publicity Secretary, Yesiru Karamo, Legal Adviser, Barr. Folashade Bakare; Assistant Legal Adviser, Barr. Adebola Adewunmi-Ladigbolu, and State Woman Leader, Hon. Jumoke Okoya-Thomas; Assistant Women Leader, Hon. Kehinde Babalola
The newly elected state vice chairmen are Hon. Tunde Aboyade (West), Mrs. Olayinka Oladunjoye (East), Hon. Daramola (Central).
State Financial Secretary, Doyin Banjo; Assistant Financial Secretary, Hon. (Mrs) Funke Olaleye; Organising Secretary, Comrade Ayodele Adewale; Assistant Organising Secretary, Mr. Bayo Sanwo-Olu; Welfare Secretary, Kehinde Adeniyi; Assistant Welfare Secretary, Akinola Idowu.Auditor, Doyin Pikuda; Assistant Auditor, Salisu Elegushi; State Youth Leader,Dr. Muritala Seriki ; Assistant Youth Leader , Vincent Adukwu; Special Physically Challenged Leader, Hon. Israel Akiode, and State Youth Organising, Mr. Idris Aregbe.
The Senatorial Youth Leaders are Rasheed Gbose (West), Gbenga Balogun (East), and Sulaiman Animashaun (Central). The Senatorial Women Leaders are Bola Badmus-Olujobi (West), Wonuola Aje-Osinowo (East) and Modupe Olawoyin (Central).
E×-Officios elect are Abu Oriyomi (West), Babatunde Olaoluwa (East), Alhaji Kpapiko Mohammed (Central 1), and Mrs. Ngozi Chinweuko (Central II).
Recalled that Hon. Olayinka was elected as the National Delegate of the party for Ifako Ijaiye Federal Constituency in the recently concluded LG Congress in Lagos State.