Era of sharing Abia money gone – Gov Otti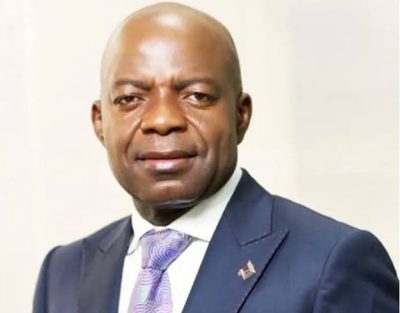 Gov. Alex Otti has declared that the era of sharing Abia money to a few individuals instead of using it to develop the state, should be considered over.
The Governor who made the declaration at a media parley in Umuahia, vowed that under his watch, resources for the state would no longer be abused but put to good use.
" Gone are the days when Abia money is shared. If you are close to those who believe that Government money should be shared, they will have a different story to tell now.
" We have continued to make the necessary changes, and we want people to see things differently. We insist that things must be done differently."
Governor Otti re-stated his campaign promise never to abuse his security vote but deploy it to the governance of the state.
"Using security votes for other purposes other than working for Abia people will not be allowed in my Government".
The Governor noted that the massive developments going on in the state is a confirmation of his judicious use of public funds.
" We will continue to do the right things, deploying the resources of Abia to work for Abia people", he said.
Gov. Otti hinted that contract for the total rehabilitation of Port Harcourt road Aba which has completely collapsed for many years now, would soon be awarded.
Otti who had before his swearing in, brought road construction giant, Julius Berger to assess the road, disclosed that design work for the strategic road was almost completed.
" Port Harcourt Road Aba has not been forgotten. It requires a lot of design, and we are at the design stage. We have done virtually everything about the road.
" In the next few weeks you will see what will happen to Port Harcourt Road Aba".
The Governor who recently inaugurated three roads in Aba, said that "11 roads are under construction" in the commercial city, adding that three of them will soon be inaugurated.
" We have already delivered three roads in Aba, and another three – Green Avenue, Umuimo and Old Express Road are ready for inauguration
Gov. Otti explained that while roads projects were being done in Aba, Umuahia the state capital would also be given attention, hence the decision of his administration to commence the six -lane Ossah Road Umuahia to give the capital city a befitting ambience.
" While Aba is a priority, Umuahia is the state capital. We are not doing Umuahia roads at the expense of Aba roads, we are giving attention to both cities simultaneously."
Responding to an inquiry on different humongous figures being alleged by the opposition as revenues received by his administration, Gov. Otti said he would not be distracted by the opposition.
He argued that for decades the opposition party had been in power, it had nothing to show for it, hence, it does not deserve attention.
" The opposition has held the state to the jugular, and we have just broken loose. I won't be distracted by their criticism. They should let us breathe. If they don't want us to breathe, we have the right to breath. I'm not here for the opposition.
" We have forced out the mouth of those who put their mouth on the feeding bottle of the state. So, they are not happy but we won't allow them to distract us".
Otti said he had nothing to hide about the resources accruing to the state, and how they are being deployed under his watch, assuring that his administration has regard for accountability.
" Don't listen to their lies. Somebody wrote that we are using N35 to paint a house at the Commissioners' Quarters. But he is only deceiving himself. Abians are wiser and can't fall for such deception and blackmail. My concern is to keep working and not to be responding to distractions by blackmailers."
The Governor further said that the two Specialist Hospitals -Amachara and Abia Diagnostic Centre Umuahia, recently renovated and re-equiped by his administration were in compliance with his promise to rebuild the Abia health sector.
He said that the Aba General Hospital, and Umunneato General Hospital currently under renovation would soon be delivered.
The Governor also explained that the flagging off of Abia Industrial Park at Owazza was part of his quest to transform the state.
He expressed delight at the high-profile investors who have already indicated interest in the project and those who showed up during the flag-off ceremony last Saturday.
Otti said that the park would have a modular refinery, fertilizer plant, gas plant, real estate, among others.
He said that his emergence marked the beginning of a new dawn in Abia State.