Exchange rate tops expectations from new CBN governor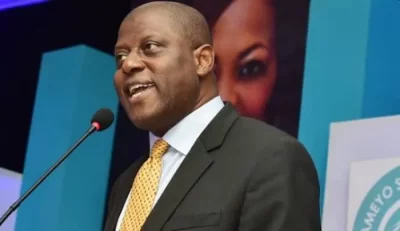 A stable exchange rate, inflation rate and single-digit interest rate are highlighted as the topmost priority for Olayemi Michael Cardoso, the new Governor of the Central Bank of Nigeria (CBN).
The appointment made by President Bola Ahmed Tinubu on Friday has been described as a welcome development by most analysts polled by BusinessDay.
"The likelihood that we will now see several changes at the CBN with the Governor and Deputy Governor nominations will be interpreted by markets to suggest that the government's reform agenda will be given priority in the weeks ahead," Razia Khan, managing director, Chief Economist, Africa and Middle East Global Research, Standard Chartered Bank, said.
She said markets will lean toward seeing this as boosting the likelihood of meaningful FX liberalisation, and it will be seen as a credit positive.
Muda Yusuf, chief executive officer of the Centre for the Promotion of Private Enterprise, said the shake-up in the CBN did not surprise, adding that President Tinubu hinted during his inaugural speech that the CBN needed a thorough house cleaning. That is what is playing out now.
According to him, under the previous CBN leadership, there were severe issues around the transparency of foreign exchange management and the intervention funds of the CBN.
Yusuf said the failure of the CBN to publish audited accounts for six years was also a major breach of corporate governance values and the CBN Act.
"Cardoso is eminently qualified for the position. He has the academic, intellectual and industry credentials to head the apex bank," he said.
Uche Uwaleke, professor of Capital Market at the Nasarawa State University Keffi, said, "it is a welcome development. Cardoso is eminently qualified. The CBN is too sensitive an Institution to allow a chief executive to function in an acting capacity for a long period. A substantive CBN Governor sends the right signals to financial markets." He said his major challenge will be the management of the exchange rate.
"Great appointments, I expect the new team to implement a policy that will lead to a stable FX rate and bring down the inflation rate," said Ayodele Akinwunmi, relationship manager of corporate banking at FSDH Merchant Bank Limited.
Nigeria's currency on Friday fell to an all-time low of N955 per dollar as demand for the greenback intensified at the parallel market, popularly called the black market.
The latest naira update shows that the local currency has lost 0.53 per cent of its value in less than one day. On Thursday, the naira was exchanged with the dollar at N945, more robust than the closing rate of N950/$1 and weaker than N940 traded on Wednesday on the black market.
At the Investors' and Exporters' (I&E) forex window, Nigeria's official FX market, the naira fell by 2.88 per cent as the dollar was quoted at N780.00 on Thursday compared to N758.12 on Wednesday and weaker than N742.10/$1 quoted on Tuesday, data from the FMDQ indicated. (BusinessDay)