EXCLUSIVE: EFCC set to commence mass prosecution of PDP 'looters'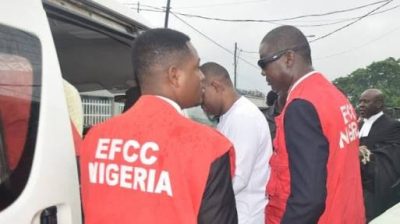 The Economic and Financial Crimes Commission (EFCC) will soon commence the prosecution of those listed as "looters" in the Peoples Democratic Party (PDP) by the federal government, TheCable understands.
An EFCC official said presidency has directed the anti-graft agency to "swing into action" as controversies continue over the publication of a looters list by government.
"We are getting the case files ready," the source said but refused to divulge specific details on those to be charged to court.
Many members of the party which formed government at the centre for 16 years are already facing corruption trial, but some were only quizzed.
But the party has continued to accuse the government of witch-hunting its members, an allegation the current administration denies.
The allegations and counter-allegations on corruption took a new dimension when Lai Mohammed, minister of information, released lists of "looters"last week.
Former governors, ex-senators and those who are not members of the PDP were also listed as looters.
Mohammed had said the government took the action as a response to the challenge of the opposition party.
"The PDP has challenged us to name the looters under their watch. They said they did not loot the treasury. Well, I am sure they know that the treasury was looted dry under their watch. Yet they decided to grandstand… Some of the people on this list are seeking to plea bargain, and that is a fact," Mohammed had said.
Some of the key PDP members on the list were Uche Secondus, chairman of the party; Stella Oduah, senator representing Anambra north; Jonah Jang, senator representing Plateau north senatorial district; and Peter Nwaboshi, senator representing Delta north.
A majority of those mentioned had denied any wrongdoing and threatened to file legal action. Secondus had given Mohammed an ultimatum of 48 hours to withdraw the list and tender an apology.
Responding to the list, Kola Ologbondiyan, spokesman of the opposition party, said his party would expose "looters" in Buhari's government.
Reno Omokri, a former aide of Jonathan, subsequently wrote an article detailing allegations levelled against some members of the All Progressives Congress (APC) and top government officials.
Apart from the PDP, critics have accused the government of President Muhammadu Buhari of being selective in its anti-graft war but the current administration has vehemently defended its record.
Here are the names on the "looters" list:
NUMBER
NAME
ALLEGATIONS
1
Former NSA, Sambo Dasuki
$2.1billion military equipment
scandal. A total of N126 billion, over $1.5 billion and 5.5 million British Pounds was allegedly embezzled through his office
2
Former petroleum resources minister, Dieziani Alison-Madukwe
N23 billion is alleged to have been embezzled
3
Rtd. Lt.-Gen. Kenneth Minimah
N13.9 billion. N4.8 billion
recovered by EFCC in cash and property
4
Lt.-Gen. Azubuike Ihejirika
N4.5 billion. N29m recovered by the EFCC so far
5
Alex Barde, former chief of defence staff
N8 billion, and EFCC recovered almost N4 billion in cash and property
6
Inde Dikko, former CG Customs
N40 billion, and N1.1 billion in cash recovered in cash and choice properties
7
Air Marshal Adesola Amosun
N21.4 billion. N2.8 billion recovered in cash28 properties and 3 vehicles also recovered
8
Bala Mohammed,  former FCT minister
N5 billion. Interim forfeiture order on some property secured
9
Senator Stella Oduah
N9.8 billion interim forfeiture order on some property secured
10
Former Niger State governor, Babangida Aliyu
N1.6 billion – from NSA
11
Former Plateau State governor, Senator Jonah Jang
N12.5 billion
12
Bashir Yuguda, former minister of state for finance
N1.5 billion$829,800 recovered
13
Senator Peter Nwaboshi
N1.5 billion
14
Former NSA Dasuki's aide, Aliyu Usman
N512 million
15
Former NSA Dasuki's PA, Ahmad Idris
N1.5 billion
16
Former Oyo governor, Rasheed Ladoja
N500 million
17
Tom Ikimi
N300 million
18
Femi Fani-Kayode
N866 million
19
Former PPS to President Goodluck, Hassan Tukur
$1.7 million
20
Nenadi Usman
N1.5 billion
21
Benedicta Iroha
N1.7 billion
22
Close ally of former NSA Dasuki, Aliyu Usman Jawaz
N882 million
23
Godknows Igali
Over N7 billion
24
PDP chairman Uche Secondus
On the 19th of Feb 2015, he took N200 million only from the office of the NSA.
25
Former PDP financial secretary
On the 24th of Oct 2014, he took N600 million only from the office of former NSA
26
Former national publicity secretary Olisah Metuh
On trial for allegedly collecting N1.4bn from the office of former NSA
27
Raymond Dokpesi, chairman of DAAR Communications
On trial for allegedly taking N2.1 billion from the office of the former NSA
28
Former SSA to president Goodluck Jonathan, Dudafa Waripamo-Owei
On trial, over N830 million allegedly kept in accounts of four different companies
29
Former president Goodluck Jonathan's cousin Robert Azibaola
Allegedly collected $40 million from the office of former NSA
Editor's note: Most of the persons on the list have denied the allegations.