Explainer: Where will the Dangote Refinery get crude?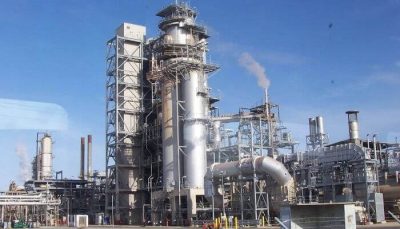 Many people have expressed concern about how the Dangote Refinery and Petrochemicals Plant which was commissioned on Monday by President Muhammadu Buhari, would source for crude.
Nigeria's declining oil production and Dangote Refinery is yet to sign supply contracts apart from the Nigerian National Petroleum Company Ltd validating this concern.
NNPC Limited's share of Nigeria's crude
Last week, Mele Kyari, NNPCl Group CEO, said the state-oil firm will supply 300,000 barrels daily to the Dangote Refinery in brief remarks at the Nigerian Oil and Gas Opportunities Fair 2023 which was held in Bayelsa.
The NNPC Limited is entrusted with about 455,000 barrels of crude oil produced in Nigeria which represents the share of Nigeria's oil production from various crude production arrangements with local and international oil companies.
These supplies can be delivered by ship or through pipelines whether undersea or above the ground to the Niger Delta.
However, there are doubts that NNPCl can sustain these orders. Kyari said that production has declined in the past few weeks due to some production challenges but that efforts were ongoing to fix the issues.
Nigeria's production fell in April to about 1 million barrels per day, falling behind African peer Angola.
Worse still, in the fields. Worse still, production from onshore and shallow water fields where the bulk of NNPC Limited's production is in decline as their International Oil Companies' partners have mainly deserted those fields.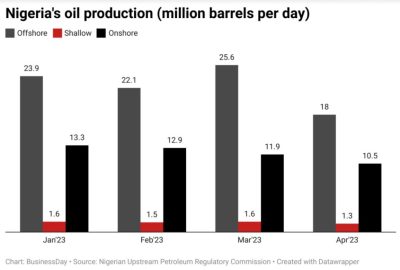 According to data from the Nigerian Upstream Petroleum Regulatory Commission (NUPRC), Nigeria's total oil output from January to April averaged 22.4 million barrels from offshore, 12.2 million from onshore, and 1.5 million from shallow water.
Production from onshore oil fields dipped by 21 percent from 13.3 million barrels of oil in January to 10.5 million in April this year. Crude oil production from offshore declined by 29 percent from 25.6 million barrels in March to 18 million barrels in April but still outpaced onshore production.
Importation
The Dangote Refinery also has the option of importing crude from brokers and oil traders like Vitol and Trafigura and other suppliers.
Crude is sold both in the futures and spot markets. In the spot market crude is bought and sold for immediate delivery and long-term contracts.
Refineries all over the world buy crude through direct purchases from producers such as oil companies and national oil companies. They are shipped to the refineries.
All over the world, refineries consider their location, the type and quality of crude oil it needs, and the price to make purchase decisions.
Own oil field
The scale of Dangote's ambition to set up the world's largest single-train refinery does not preclude owning his own oil fields to feed his plant. There is precedent for this.
When it became apparent that Apapa ports in Lagos were inadequate to move the component parts for the refinery, Dangote built his own port.
"To bring over Dimensional Cargoes close to the site, we developed a port with four quays, which has a quay loading bearing capacity of 25 tonnes per square meters. This was done to bridge the distance between Apapa port and our project site," Dangote said.
A future plan to acquire his own oil fields cannot be off the table.
Contracts with IOCs
Dangote Refinery could also enter agreements with IOCs and buy their own share of crude contracts in Nigeria. This could save the IOCs freight costs helping to raise their revenues.
However, some of the IOCs like Shell with their own refineries outside Nigeria would prioritise supply to their own refineries. (BusinessDay)