FAAN returns foreign airlines to old Int'l terminal at Lagos Airport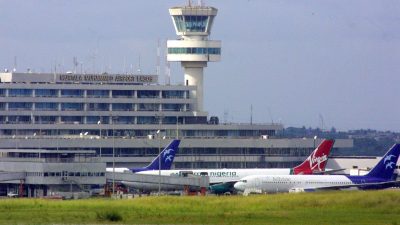 The Federal Airports Authority of Nigeria (FAAN) has reopened an aspect of the international terminal of the Murtala Muhammed Airport (MMA), Lagos for the facilitation of passengers.
FAAN in a statement by its Director Public Affairs & Consumer Protection Abdullahi Yakubu-Funtua, said that the D-Wing of the terminal has been re-opened to international airlines for the movement of passengers.
Minister's Approval and Relocation
FAAN said that the relocation of the airlines back to the old terminal received the approval of the Minister of Aviation and Aerospace Development, Mr Festus Keyamo.
He emphasized that the use of the old terminal would complement the new terminal.
"The use of the D Wing for processing of passengers has since commenced. The old international terminal will be renovated in phases," Yakubu-Funtua said.
FAAN had on September 8, 2023, under controversial circumstances, forcefully relocated the international airlines from the old terminal to the new Chinese terminal, citing the fire incident that razed a part of the old terminal for its action.
Keyamo had on August 30, 2023, directed the management of FAAN to ensure the relocation of foreign airlines from the old terminal to the new aerodrome, which was commissioned in 2022 by former President Muhammadu Buhari.
Terminal Renovation Phases
Yakubu-Funtua emphasized that the expedited relocation to the new international terminal was deemed necessary due to the unfortunate fire incident that occurred at the international terminal on Wednesday.
Keyamo had given FAAN till October 1, 2023, to relocate all flight operations to the new international terminal and vacate the old terminal for rehabilitation.
Background and Ministerial Directive
Keyamo, who appreciated the state-of-the-art facilities at the new terminal, which was part of the terminals built with Chinese loans with counterpart funding from the Federal Government, regretted that the terminal was grossly underutilized and that the old terminal had become decrepit, smelly, outmoded and therefore, needed urgent rehabilitation.
He had said:
"We should move and use the new terminal, that is all I have said. The new terminal is underutilised, we spent a lot of money building it and we have to use it. The old terminal is a total eye-sore.
"Since I came into office, I have heard complaints upon complaints. The central air condition is not working, the carousels are not working, they break down quite often and the approach into the airport is smelly, it is unwelcoming to people coming into Nigeria and that is the gateway to Nigeria.
"So, I have given a directive that we should completely shut it down and use the new terminal that can also take the traffic.
Now what was the problem? The problem with the new terminal was that they did not take into consideration the big aeroplanes that would come in and anchor with the avio-bridges that would take passengers on arrival.
"The space is not enough, and I have said that why the space is not enough is because there are private hangars there that cannot allow the planes to come in and that is why we are not enjoying our new terminal."
The Minister further explained that the reason why the old terminal should be vacated was to create an opportunity for the complete rehabilitation of the facility, which has served Nigeria since 1979 when it was inaugurated for international service. (Nairametrics)