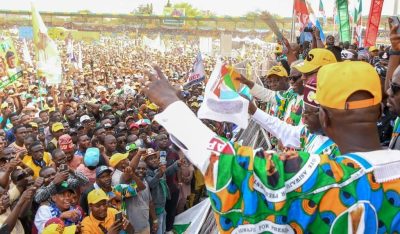 A new twist was added to the current fuel scarcity in the country and naira redesign as the Presidential candidate of the All Progressives Congress (APC), Asiwaju Bola Ahmed Tinubu alleged that these were meant to sabotage the general election.
The APC presidential candidate stated this while addressing thousands of APC members and supporters at the presidential campaign rally in Abeokuta, the Ogun state capital held at the MKO Abiola stadium.
Tinubu specifically said the fuel crisis and the scarcity of the  redesigned naira notes were artificially created to discourage people from voting for the APC.
The candidate, in a vague reference to the powers that be, wondered why the fuel scarcity which began in October last year, had failed to abate.