Fuel Scarcity Spreads Across Lagos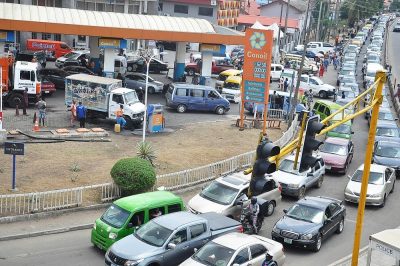 Fuel scarcity which resurfaced in parts of Lagos early this week has spread to nooks and crannies of the state amidst rising concerns from motorists over the cause of the scarcity.
Daily Trust checks on Wednesday revealed that many filling stations across the state are shut while only few stations dispensing fuel are experiencing long queues.
Our correspondent who went round Lagos metropolis also observed lighter traffic movement in some parts of the state like Murtala Muhammed Airport road inbound Ikeja traffic.
Also, no filling station was dispensing fuel at Oba Akran Avenue as the only major marketer selling the product abruptly stopped, claiming they have run out of stocks.
Also at Agidingbi Ikeja, a Mobil filling station is not dispensing.
Our correspondent however learnt that some independent filling stations dispensing fuel are selling at N210, N215 and N220 per litre as against N169- N170 which is the government regulated price for the NNPC retail outlets and the major marketers across the country.
A motorist, Mr. Lukman, told our correspondent that the fuel situation may not improve anytime soon, saying the scarcity has spread to Lagos metropolis.
He said, "If you get fuel at any independent filling station even at N220, you have to buy it immediately because you can't get it at any major filling station.
"In fact Mobil filling stations where we usually get fuel around Ikeja here and Akilo road are not selling. This is to tell you the situation has gone bad."
Findings by our correspondent however revealed that most independent filling stations selling fuel are dispensing at far above the government-regulated price following what they called the increase in ex-depot price.
Chairman of the Independent Petroleum Marketers Association of Nigeria (IPMAN), Satellite Depot, Ejigbo, Akin Akinrinade, confirmed the development to our correspondent, saying the private depots have increased the ex-depot price to N210 from N180/N190 it was previously sold.