Gunmen shoot 3 policemen dead, abduct oil coy executive Seni Awosike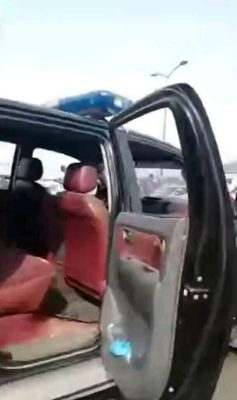 Detectives of the Rivers Police Command have commenced search for gunmen who abducted one Seni Awosike, the Managing Director of IGPES Group of Oil and Gas company after killing three of his police escort on top of the popular Rumuokoro flyover, Port Harcourt,the state capital.
According to eyewitnesses' account and viral videos posted online, the incident happened at around 3 p.m. on Thursday along the busy flyover
The gunmen were said to have trailed the convoy to the top of the Rumuokoro flyover where they successfully intercepted it, shot his escorts who they left in their pool of blood before kidnapping the VIP and carting away an undisclosed sum of money.
The gunmen who reportedly adorned who military combat fatigue carried out the operation which lasted few minutes unchallenged in spite of the fact that a Special Area Police Division is about 200 metres away from the scene of incident.
The incident caused panic among motorists, traders in Rumuokoro Modern Market and residents of the area who scampered for safety at the sound of gunshots.
An Eyewitness said,"This afternoon, at 3 p.m yesterday, we heard gunshots from the top of the flyover. We initially believed that the shooters were security personnel because they were wearing military uniforms.
"Shooting persisted as vehicles at the base of the flyover were required to stop. They and killed three Police officers who were escorting a prominent individual.
"They stole money from the convoy and kidnapped the prominent individual. They then entered their own vehicle and drove away."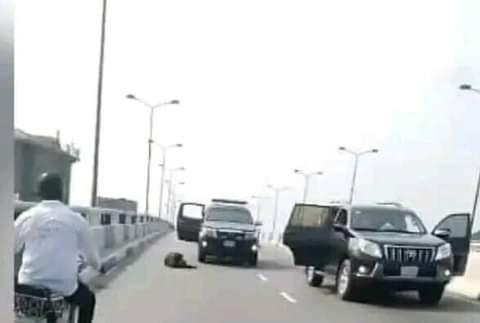 When our Correspondent visited the scene of the incident this morning, Friday,the corpses of the slain Policemen were already removed and same with SUV and the Hilux conveying the escorts.
Grace Iringe-Koko, a Superintendent of Police and the Public Relations Officer of the Rivers State Police Command, confirmed the incident and stated that three police officers were killed .
In a press statement, Iringe-Koko said said: "At about 1650hrs,(4:50pm) a Staff of IGPES Group of Oil and Gas company, on Thursday 24 November 22, along Obirikwere flyover, a green Sienna Vehicle was flashing light on them to stop but they refused, later the managing director Mr Seni Awosike , the kidnapped victim ask them to stop whilst they were wearing military uniform along Rumuokoro flyover.
"The hoodlums opened gunfire and shot three mobile Police officers, who died on the spot. Investigation is ongoing",. Iringe-Koko said