Hamas Chief Says Truce Agreement With Israeli Government On Gaza War Is Now Close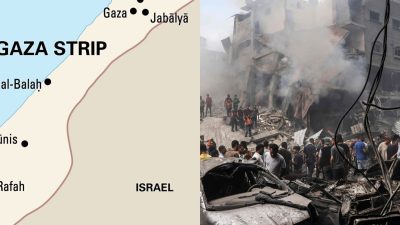 The chief of Hamas told Reuters on Tuesday that the Palestinian militant group was near a truce agreement with Israel, even as the deadly assault on Gaza continued and rockets were being fired into Israel.
Hamas officials were "close to reaching a truce agreement" with Israel and the group has delivered its response to Qatari mediators, Ismail Haniyeh said in a statement sent to Reuters by his aide.
The statement gave no more details, but a Hamas official told Al Jazeera TV that negotiations were centred on how long the truce would last, arrangements for delivery of aid into Gaza and the exchange of Israeli hostages held by Hamas for Palestinian prisoners in Israel.
Both sides would free women and children and details would be announced by Qatar, which is mediating in the negotiations, said the official, Issat el Reshiq.
Israel has generally avoided giving commentary on the status of the Qatar-led talks. Israel's Channel 12 television quoted an unidentified senior government source saying "they are close" but giving no further details.
Hamas took about 240 hostages during its October 7 rampage into Israel that killed 1,200 people.
Mirjana Spoljaric, president of the International Committee of the Red Cross (ICRC), met Haniyeh in Qatar on Monday to "advance humanitarian issues" related to the conflict, the Geneva-based ICRC said in a statement. She also separately met Qatari authorities.
The ICRC said it was not part of negotiations aimed at releasing the hostages, but as a neutral intermediary it was ready "to facilitate any future release that the parties agree to".
Israeli Ambassador to the United States Michael Herzog said on ABC's "This Week" on Sunday that he hoped for an agreement "in the coming days", while Qatar's Prime Minister Sheikh Mohammed Bin Abdulrahman al-Thani said that the remaining sticking points were "very minor". U.S. President Joe Biden and other U.S. officials said on Monday a deal was near.
The Hamas raid on Oct. 7, the deadliest day in Israel's 75-year-old history, prompted Israel to invade Gaza to annihilate the militant group that has ruled there since 2007.
Since then, Gaza's Hamas-run government says at least 13,300 Palestinians have been confirmed killed, including at least 5,600 children, by Israeli bombardment that has turned much of Gaza, especially its northern half, into wasteland.
Around two-thirds of Gaza's 2.3 million people have been made homeless, with thousands a day still trekking south on foot with belongings and children in their arms. The central and southern parts of the enclave, where Israel has told them to go, have also regularly come under attack.
Gaza health authorities said on Tuesday at least 20 Palestinians were killed in Israeli bombing of the Nuseirat refugee camp in central Gaza at midnight. There was no immediate comment from Israel.
The already crowded Nuseirat district, which grew out of a camp for Palestinian refugees from the 1948 Israeli-Arab war, is just south of the wetlands that bisect the strip and has been the first arrival point for huge numbers escaping the fighting further north.