Harry and Meghan's Children 'May Not Have Relationship With King Charles' After Eviction From Royal Residence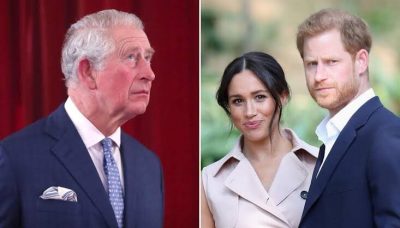 The children of the Duke and Duchess of Sussex, Prince Harry and Megan Markle respectively, may not develop a relationship with King Charles if the couple are not provided with accommodation in the UK, it has been suggested.
The couple have not been offered alternative accommodation in the UK since being evicted from Frogmore Cottage, according to the Telegraph.
The couple are said to be concerned that future visits will be incredibly "complicated" if they are forced to stay outside the security perimeters of a royal estate.
There has been no counteroffer of a place to stay should they want to return, a source suggested.
They have not been offered the occasional use of rooms at St James's Palace, for example, or any other royal residence, meaning that they may have to use hotels or stay with friends.
The news raises the prospect that the King will have no tangible relationship with his two youngest grandchildren, Archie, three and Lilibet, one, who may never be brought back to the UK.
"It's not just his son, it's his grandchildren too," the source noted.
The King's decision to remove one of the final links his son has to the UK was described as indicative of the current state of the relationship between the two sides of the family.
While Buckingham Palace has refused to comment on the various allegations made in the Duke's memoir or subsequent interviews, such actions have been interpreted in California as a direct retaliation.
The Telegraph revealed last week that the Sussexes were "disappointed" but resolute about the King's decision to ask them to leave their Windsor home and aware that it was their second home and that they remain incredibly privileged.
The couple were asked to vacate the five-bedroomed property in January, the day after the publication of Prince Harry's memoir, Spare.
One report last week suggested that the move was made in response to the Duke's criticism of his stepmother, the Queen Consort, whom he described as "dangerous" and a "villain".
Another likened it to "ripping off a Band-Aid" for a monarch keen to resolve outstanding issues surrounding Harry, Meghan and Prince Andrew which he fears have been allowed to "drag on" for far too long.
The Duke of York has been offered the keys to the property but does not want to leave his own family home, the vast 30-room Royal Lodge, set in 98 acres in Windsor Great Park, the Telegraph reports.
A friend of the Sussexes suggested that the move to evict the couple from Frogmore may have been "less troubling" if it had been earmarked for anyone else.
Buckingham Palace declined to comment. (SaharaReporters)