Hold People In Charge Of Security Accountable – Kola Abiola Tells Buhari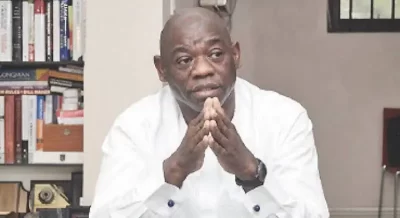 The Peoples Redemption Party (PRP) presidential candidate for the 2023 general elections, Mr Kola Abiola, has called on President Muhammadu Buhari to hold people in charge of security responsible for the insecurity in the country.
While speaking on Trust TVs Daily Politics on Friday night, the son of the late MKO Abiola expressed disappointment over the worsening security situation.
He said the government had failed in its duty to protect Nigerians and their property.
Insecurity is escalating all over the country by the day and the Ansaru terrorist group during the week banned political activities in many communities in the eastern part of Birnin-Gwari Local Government Area of Kaduna State.
Also, at least 22 soldiers and seven police operatives were among many people reportedly killed Wednesday during attacks by terrorists in Niger and Taraba states.
The Zamfara State Government has called on civilians to arm themselves against terrorists in the state.
While positing that intelligence gathering and sharing was at the lowest level in the country, Abiola said it was high time people saddled with responsibilities were held accountable.
He said the service chiefs should be held accountable for not improving the security situation in the country.
"For as long as we don't hold people responsible, they in turn will not hold people responsible down the lines.
"The buck will always stop on the table of the president. Immediately, we start holding people responsible, things will change," he said.
The presidential candidate also said people no longer trust the system, saying Nigerians are now at the mercy of the terrorists.
According to him, Nigerians' lives are not being taken seriously by the government, lamenting that the number of lives wasted in the country daily was alarming.
"This need to stop. We need to care more about one another. The life of every Nigerian should count," Abiola said, adding that when his party comes on board, Nigerians' lives would be taken seriously.
He lamented that the governors who were supposed to be their respective state's chief security officers were not taking governance seriously, adding that they were never always around.
He said there was a need to bring the local structure into the security architecture while also deploying technology.
He said the number of security personnel in the country was inadequate, adding that rather than equipping the police, the government was busy creating agencies duplicating functions.
(Daily Trust)